KARACHI: An innocent question asked by a fan has caused a lot of excitement in the industry as Manzar Sehbai has confirmed that his wife and veteran actress Samina Ahmad is set to appear in a Hollywood movie. Sehbai had posted about getting his first dose of the COVID 19 vaccine and fans were quick to note that his wife wasn't with him. The question, "where is Samina ji?" was asked to which Sehbai made the exciting revelation. He responded to the question letting the fan know that "she is in Thailand, shooting for a Hollywood serial, will be back on 6th May."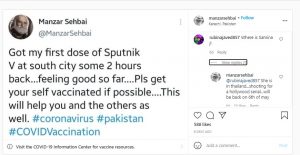 Although Sehbai didn't disclose the name of the project, it left fans speculating that perhaps Samina Ahmad is set to star in the Ms. Marvel movie. The speculation came from the news that Bollywood actor Farhan Akhtar is also in Thailand for a Ms. Marvel movie. Fans put two and two together and have assumed that Ahmad is also working on the same project since they are in the same region.
The highly anticipated movie is being directed by our very own Sharmeen Obaid-Chinoy and will also see Pakistani actor Nimra Bucha in a supporting role with newcomer Iman Villani as the lead role. Thus, seeing another familiar name attached to the project has caused a lot of excitement.  The movie is set to be released by Disney+ in late 2021.
This is legitimately historic. Pakistani, Indian, and Moroccan directors working on the same major superhero production for a brown Pakistani-American Muslim teenage hero (let's hope the casting keeps this energy up) is incredible and so groundbreaking. #MsMarvel #KamalaKhan https://t.co/LqrmXBXOWW

— Swara Ahmed (@spiderswarz) September 18, 2020
While there has been no official confirmation about whether the speculation holds any truth, many actors have taken to social media to congratulate Ahmad on her Hollywood debut. Ramsha Khan who shared the screen with Ahmad in the recently concluded Ghissi Pitti Mohabbat praised her for "making Pakistan and actors of Pakistan proud."
Irrespective of which movie Samina Ahmad is going to star in, we're all very excited to see what she has in store for us with her Hollywood debut.