KARACHI: On 3rd May, 2021, social media was set on fire with the news of Bill and Melinda Gates' divorce. Even though it was nearly 2 am in Pakistan when the couple publicly announced their decision, Instagram, Facebook and Twitter were soon flooded with publications reporting the news. In the morning, news channels caught up with the trend as well. Of course, the news did not just make its way to Pakistan, but media channels around the world replicated the behaviour. Within hours, users from around the world had found humour in the situation and thousands of memes surfaced. The question is, why?
Why does Bill Gates' divorce concern us in the first place? As a nation and as an industry, we seem to be obsessed with other people's relationships. Be it Iqra Aziz's godh bharai or Yasra Rizvi's pregnancy, we want to be the first one's to report everything. Of course, both of these scenarios are happy ones but even when there is nothing to report, we love to speculate. Such as in the case of Falak Shabbir and an Instagram story which had many believing that his wife, Sarah Khan, might be pregnant. Or more recently in the case of Mashal Khan who was unnecessarily dragged into the conversation when Ali Ansari got engaged to Saboor Aly. Are we so invested in other people's relationships that we won't ever let them have a private moment, even if they are public figures? And to think that Bill Gates does not even belong to our part of the world. Or are we so caught up in the rat race that we have forgotten what journalism truly is?
Perhaps the most horrifying thing to witness after the Gates announced their divorce was the 'shoot your shot' trend on Twitter. Users could be seen creating memes encouraging girls to 'shoot their shot' now that Bill Gates is single.
A few others shared screenshots of messages that they have sent his way after 'sliding into his DMs'.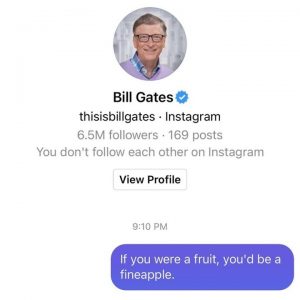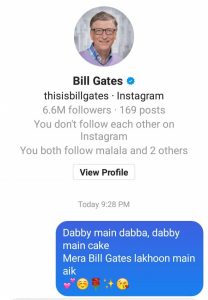 All in all, the whole situation has been made a joke out of. But why? He might be the richest man in the world, but why have we forgotten that he's also a human being? Even worse was the fact that these memes were also being compiled into stories by publications. "Twitter has a field day as billionaire couple part ways" read one of the headlines of a story placed under the 'gossip' section of a fairly popular website. Surely, Twitter trends is an easy and fun way of generating traffic but why is it being done at the cost of someone's privacy? Why is the end of a relationship between two people being discussed and joked about by the whole world?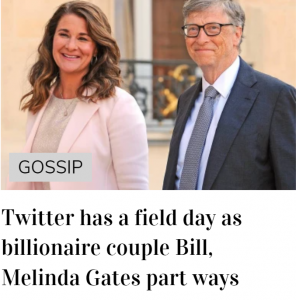 Bill and Melinda Gates announced that they reached a mutual discussion regarding their relationship, but where did they say that it is a moment to celebrate? What they did ask for is 'space and privacy' but of course, no one seems to have read the last line of their note.
Are we really so hungry for clicks and likes that we will achieve our targets at the expense of someone else's feelings? Will we really put someone else through hell just so that we can laugh for a moment? Is 'billionaire' the only defining factor for Bill Gates' personality? Isn't he human? Aren't we?