KARACHI: Several media outlets were keen on celebrating Yasra Rizvi expecting her first child with her husband Abdul Hadi. While the news is heartwarming and we wish the happy couple the very best of luck, it was disheartening for the actor to see how her pregnancy was the only takeaway from the pictures she posted from the set of an upcoming drama on her Instagram. Yasra is directing the drama, titled Working Women, with the script penned by Bee Gul who is winning hearts with Raqeeb Se.
View this post on Instagram
View this post on Instagram
In both pictures, Yasra Rizvi sits holding her script, reading it with the utmost concentration with her baby bump suggesting she is expecting. In the second picture, she wrote, "waiting for the monitor." People who saw her baby bump confused it with a baby monitor when all she was talking about was a director's monitor, a screen that would allow Rizvi to see all the shots appear from the lens of a camera.
The director's monitor helps with a better judgment of how the scene would appear on TV with all the lighting and cinematography, something that cannot accurately be analyzed by the naked eye because colors on-screen and real-life may vary. The camera movement can also be judged better through the screen.
However, a higher fixation was seen with just the fact that she was pregnant when it came to coverage, not with the idea of a pregnant working woman who is working hard in spite of her pregnancy.
Jenaan Hussain, a renowned actor from the industry as well as Rizvi's sister-in-law took to her Instagram to break things down.
View this post on Instagram
"This post is actually about a woman inspiring other women to do and be whatever and whoever they wish to be at any point in their lives regardless of their age and domestic commitments," she wrote.
Explaining how people should celebrate the capability Yasra Rizvi holds as a woman than only focusing on the fact that she is expecting, Hussain wrote, "It's not about 'oh look I am pregnant and that's the only accomplishment you must celebrate me for' but taking things in your stride, being this pregnant, and directing a high-pressure set is just the kinda thing only a woman can pull off, just like her a lot of women around us everyday juggle between the most daunting tasks and nail it and some get trapped in myths and preconceived don'ts."
In conclusion, she made it loud and clear, "Women are doers, and if there is a time to stop underestimating us and what all we are capable of it's now!"
Yasra Rizvi too raised the issue through her Instagram story.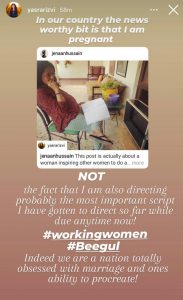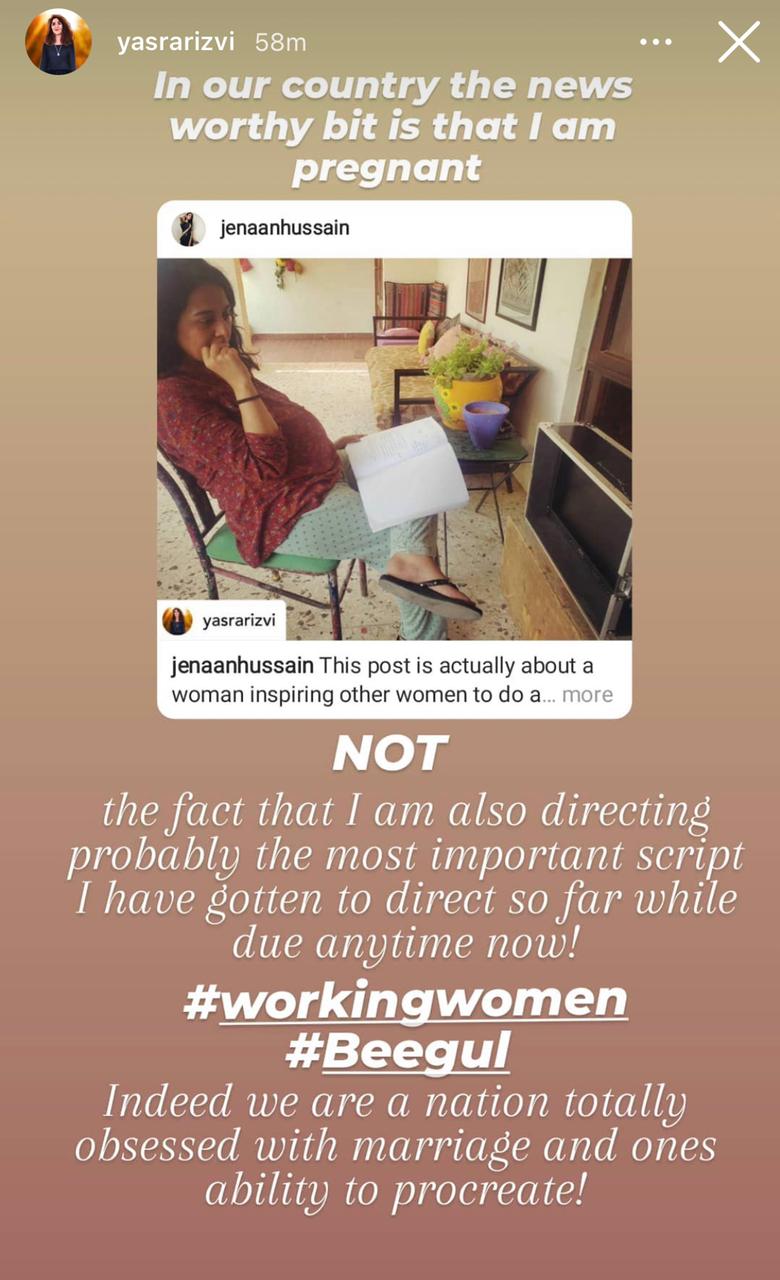 "In our country, the newsworthy bit is that I am pregnant," she says. "Not the fact that I am also directing probably the most important script I have gotten to direct so far while due any time now! Indeed we are a nation totally obsessed with marriage and one's ability to procreate." the Churails star stated.