KARACHI: The Chairman of the Pakistan Telecommunication Authority (PTA) has been issued a directive by the Interior Ministry of Pakistan to temporarily shut down social media apps. Social media platforms such as Twitter, Facebook, WhatsApp, YouTube, and Telegram will remain down across Pakistan from 11 am to 3 pm today.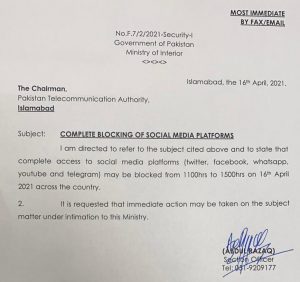 The directive stated, "It is requested that immediate action may be taken on the subject matter."
According to Dawn, the ministry issued a statement saying, "In order to maintain public order and safety, access to certain social media applications has been restricted temporarily."
View this post on Instagram

There is reason to believe that apps, including some of the most key ones like WhatsApp being down, could possibly be linked to the ongoing protests across the country by the Tehreek-e-Labbaik Pakistan (TLP). Protesting against France, these protestors soon found another reason to protest after their chief was also taken under custody.
While a handwritten letter from Saad Rizvi was shared by Special Assistant to the Prime Minister, where the TLP chief who has been under arrest urged his followers to go back to their homes, the protestors refused to leave unless they hear and see the chief saying it himself.