KARACHI: With the ongoing countrywide protests and the overall stance the country has hoarded over the years about women stepping out of the house to become contributors in the labor force, growing intolerance, and a pessimist perspective of things harbored in nearly every other Pakistani who would like to leave, one cannot help but recall a bygone golden era. Some things we only value more once they are replaced by newer versions of themselves. And these newer versions often turn out to be a black mirror image of what we had familiarized ourselves with. John Walker taking over the mantle of Captain America, Naya Pakistan taking over Purana Pakistan are some of the things that will never sit well with people who know what the formers of each were like.
View this post on Instagram
We all thought renewal was better when we were really leaving behind what mattered the most. Or at least what made us better. Here are a few things about Purana Pakistan, that one wishes could possibly exist once more:
When 1 PKR equaled $3.31 
You read that right. At the time of Pakistan's independence, 1 Pound Sterling to Pak Rupee equaled 13.33 PKR and 1 US Dollar was equal to Pak Rs. 3.31. Our currency has devalued to the point that today, 1 US Dollar is equal to 152.85 Pakistani Rupees.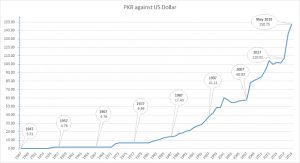 When all-female rock bands were mainstream
Yes, we still have female musicians and vocalists. But how many all-female bands are promoted on mainstream media like the all-boys bands we have produced and encouraged lately?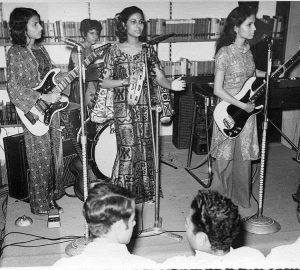 Female musicians really saw their high during the late 60s. The western world began experimenting with realism, psychedelics, and music. Art felt freer. Pakistan had space for people of different genders, ethnicities, and even religions – which took a back seat when it came to art. The reason being, when it came to art, it was not about where it came from. It was about what it said and the sense it created in people consuming it. From Benjamin Sisters to Xavier Sisters (in the picture above) Pakistan did not look at genders and religion while promoting their art.
When women could ride bicycles
View this post on Instagram
Today, fashion campaigns revolve around normalizing the concept of women on bicycles and the mobility that has been snatched away. In Naya Pakistan, we blame a mother for choosing to travel at night for the gang rape she falls prey to. Women's clothes, the timing of when they were out of their homes, and sometimes the very existence of female anatomy becomes a pathetic excuse behind rape, to be widely accepted by not just men, but also women. One really wishes how these very people could travel back in time to see how a number of women rode bicycles as a completely normative form of their day-to-day commute.
When Pakistani and Indian film industries could collaborate
View this post on Instagram
Until recently, we could. However, with a growing turmoil and polarised state of affairs over the disputed territory of Kashmir, Pakistan and India no longer collaborate at this moment. During the start of the pandemic, some Pakistani artists did try to hold live sessions with artists from across the border. However, soon a notice was issued by the Indian government against the practice.
View this post on Instagram

When we had a Hindu minister of law and labour
His name was Jogendra Nath Mandal. He was the second minister of the commonwealth and Kashmir affairs. Joining the struggle for Pakistan because he found common grounds with Muslim League's demand for partition, Mandal hoped Pakistan could be good for scheduled castes being a Dalit himself.
View this post on Instagram
The minorities of Pakistan were not looked at as mere minorities, filling in a certain percentage, exhibiting our tolerance and acceptance of people who are different from us. They were just as much a part of Pakistan as any other. However, things soon took a shift when a disappointed Mandal migrated to India a few years after partition after resigning. This happened after the death of Jinnah, during Liaquat Ali Khan's time. He cited anti-Hindu bias towards himself.
For someone who fears their power diminishing with equitable distribution of opportunities, rights, responsibility, and labour, it might be easy to say, "Let bygones be bygones". But people who have known gold, cannot bring themselves to have bronze compensate for it. For those who have experienced it in person, or even through art or literature, Purana Pakistan stands tall and always takes the crown over Naya Pakistan.