KARACHI: It is not unusual for Pakistani society to have a 'holier than thou' attitude. Many of us indulge in criticism of others, specially when the other individual does something that we do not approve of. People are also criticized for the way they look, for our society has unrealistic standards of beauty and it expects everyone to fall into one perfect mould. Recently, model and host Mathira took to her Instagram to address the same issues. Only a few days ago, she spoke about how she has been called 'plastic' for the way she looks. Mathira's curvy body also does not sit well with many Pakistanis who believe that women look the best when they are slim.
More recently, Mathira shared an Instagram story talking about the unsolicited advice she gets from people, even women, regarding her skin colour. A nation who is hell-bound on being white, it is no surprise that Mathira has been recommended to use skin whitening injections. "I have realized people will always shame me when I wear a fully covered dress, I am shamed on my colour…so what if I am BROWN. I am named shamed for my colour, my weight, what is wrong with our society?" she asked.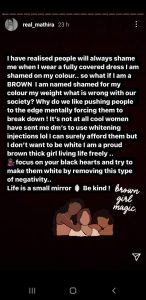 "Why do we like pushing people to the edge mentally forcing them to break down! It's not at all cool. Women have sent me DMs to use whitening injections, lol I can surely afford them but I don't want to be white. I am a proud brown thick girl living life freely."
Hania Aamir keeps the narrative going about being comfortable in your own skin
View this post on Instagram
Mathira soon shared another post, confidently flaunting her brown skin. "I am a brown girl who defines her standards of beauty. The darkness of my skin is my own bronzer," she wrote. Mathira ended her note with how she is "not ashamed to be brown" and frankly, it is time that we as a nation learnt to spread the same message.