KARACHI: Cutacut recently got a chance to drop by the set of upcoming movie, Ghabrana Nahi Hai (GNH) that sees Jamil Baig venturing into production under JB films. It was a bright Sunday afternoon, the last day of the Karachi spell before the cast headed to other locations across Pakistan. As we entered the garage space where a bus was standing, the crew was busy prepping for the shots. The cast, encapsulated in a small makeup room of sorts, was getting their hair and makeup done. I greeted the three of them – Zahid Ahmed, Saba Qamar and Syed Jibran, who play key roles in the movie that is expected to release later this year.
Read: Adnan Siddiqui's movie Dum Mastam is set to release in 2021
"It is a film on women empowerment; it follows the life of a daughter whose father has been wronged," Jameel Baig revealed as we met prior to the set visit over a cup of tea. "It is a layered role set in different timelines so we chose Saba because she is an amazing actress. Similarly, I really liked Zahid's acting and I also felt not everyone will be keen to cast him right now. I did not want to go for the most sought-after faces but the ones that will suit our narrative. The casting was something I was totally involved in. I also kept my 110% involvement in the script and got it changed at least thrice. Since my name is associated with the project, I had to invest time and be involved in the entire process to maintain my credibility."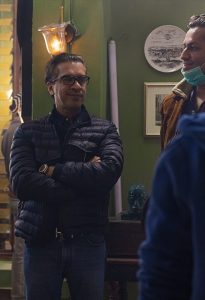 Ghabrana Nai Hai is a rom-com with a strong message at the heart of the movie. The music is looked after by Shuja Haider, featuring Javed Bashir, Ali Zafar and other musicians on vocals. Reflecting on entering into production, Jamil Baig shared, "Indian movies have been banned and this is the best time to contribute to the industry instead of just talking about it.  We have decided to make at least three movies a year so that we play our part in the growth of the local film industry. While I have invested in cinemas, I felt like investing in our films too. My main motive is to provide opportunities to the very few directors and scriptwriters who continue to stick to the industry despite all odds. My priority would be to give a chance to creatives who haven't done a film yet. In every movie I make, I will try to have a mix of new and experienced people on board. We need known names and faces too to pull the crowd while we open doors for newcomers. We would have more of them at the end of the day. A new investor would have more options to choose from."
Read: Wonder Woman 1984 to be released on HBO Max this Christmas

With GNH, he feels, he will introduce the industry to a fine director like Saqib Khan, in addition to Zahid Ahmed. He has even finalized casting for his next film under JB Films that that will be announced very soon. Coming back to Ghabrana  Nahi Hai, as soon as SOPs eased amidst the pandemic, they returned to the set to finish the movie. Starting from Karachi, the shoot extends to Interior Sindh, Faisalabad and Lahore.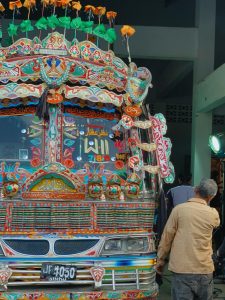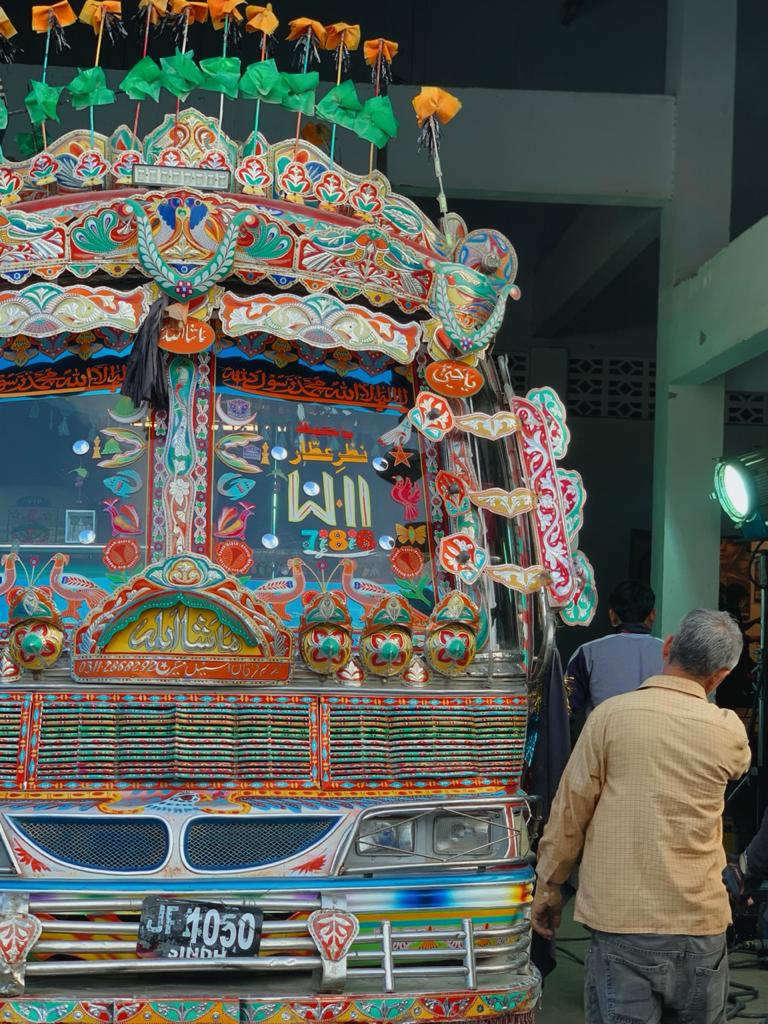 Being on the set in Karachi, one witnessed director Saqib Khan's passion for his craft. Making his film debut with Ghabrana Nahi Hai, he has been around for almost a decade. The cast and crew seemed quite content with how the director is taking things forward. He was approached by Hassan Zia, who is producing GNH under Mastermind Films alongside JB Films and the two go back a long way. Saqib Khan has been working as a writer, director and producer under his own banner, Hazaar Dastaan Films. He has done some corporate assignments, TVCs, music videos and a lot of work with ISPR as well. Recently he also worked on a serial. "Film is the ultimate avenue for a director – it is like a dream come true for me," he admitted.
"The major attraction for me was the prospect of creative freedom and flexibility. It has been a great experience so far. For me, it is more like a labour of love, I'm very passionate about it. On top of that, working with such amazing actors, being an actor myself when I initially started off, it is like a powerhouse of an ensemble to work with. I feel, we lack in terms of acting at times so it is important to raise the bar in that area too. This being a character-driven film, it is very important that actors do justice to it. It was time-taking to have these names on board and I would say, it has eventually paid off. The cast is the USP of this film."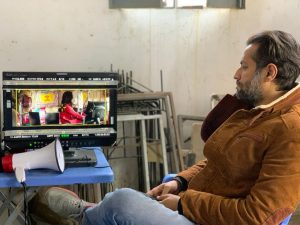 The incredibly talented cast includes industry veterans Sohail Ahmed, Nayyer Ejaz and Jan Rambo in addition to Zahid Ahmed, Syed Jibran and Saba Qamar. Earlier titled Zubeida Mard Ban, Ghabrana Nahi Hai features Saba as Zubeida, a daughter who fights for justice for her father. Raised by her father, Zubeida is an only child who grows up to be a son and a daughter to her father.
Read: Mahira Khan all set to dazzle the big screen with three upcoming films

"When director Saqib khan narrated the story to me, I loved it. The way he narrated it, I could tell this person knows his craft," Saba told Cutacut before she got ready for her first shot of the day. "He was so convincing that I kept laughing for 2 hours. I found it relatable and funny. I am very confident about the script. It is the story of Zubeida who I play in the film – audiences will find it very refreshing, there is a lot to offer. Even I am looking forward to it. I am quite similar to the character I am playing."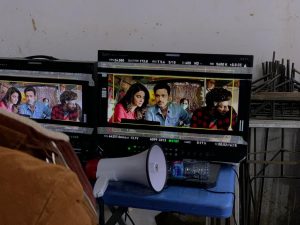 Zahid Ahmed, on the other hand, plays a cop in the film who apparently helps Zubeida in her search for justice. In the words of the actor, it is not a very unconventional role but the film is rather a complete package. "That was not on my mind as far as the film is concerned; it just needed to be a good role, well-written and, with a proper arc which is very much there," he explained, in-between his shots.
Zahid added, "Ghabrana Nahi Hai is poised to be a complete entertainer – with spot-on comedy and romantic sequences. It is a safe, done-to-death genre but it is going to be a well-made film."
Read: Tich Button resumes shoot post Covid-19

The film highlights a love triangle featuring Saba Qamar, Zahid Ahmed and Syed Jibran, who plays the role of Zubeida's cousin. A versatile actor, Syed Jibran is making his film debut with Ghabrana Nahi Hai and feels it is the ultimate avenue for any actor.
"I won't deny that I have been waiting for it all my career and it's happening with the right project," admitted Jibran, as he very humbly took out time for us. "I represent love and friendship in this film. It shows how far can a person go to make sure that the person he loves is happy. Unlike what I have been doing on television, you will see me in a completely different portrayal. People are in for a very pleasant surprise."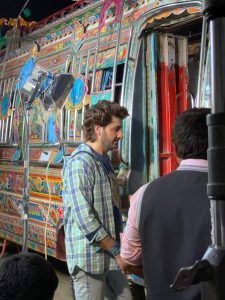 As the film industry worldwide awaits cinemas to reopen, we're eager to witness the hard work on the big screen. Ghabrana Nahi Hai and many other local films are in the pipeline and the teams behind them are putting in their efforts despite all odds. We wish them all the success!