KARACHI: The conversation around Turkish stars being cast in Pakistani adverts dates back to the start of 2020. It opened doors to Pak-Turkish collaboration spearheaded by Humayun Saeed and Adnan Siddiqui from Pakistan. The entertainment industries from both ends came together in an effort to produce better content, have resources that help them produce films and web series that are at par with international standards. This, however, has not sat well with quite a few people. The recent addition to the list is Sharmeen Obaid Chinoy, who expressed disappointment on Turkish actors being cast in Pakistani projects.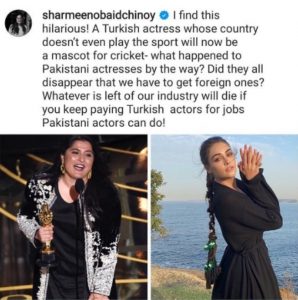 Many did not agree with her stance, considering she herself has been a frequent participant of filmmaking in Hollywood and will be a co-director for Ms. Marvel,
She recently explained through her Instagram stories why it is important for Pakistan to promote local talent.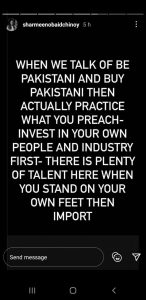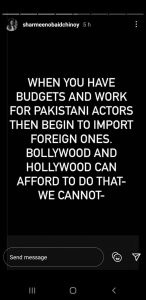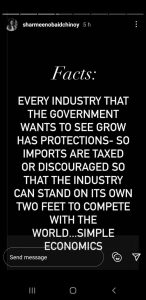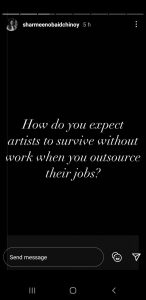 "When we talk of being Pakistani and buy Pakistani then actually practise what you preach. Invest in your own people and industry first. There is plenty of talent here when you stand on your own feet then import. When you have budgets and work for Pakistani actors, then begin to import foreign ones. Bollywood and Hollywood can afford to do that. We cannot. Every industry that the governments want to see growing has protections. So imports are taxed or discouraged so that the industry can stand on its own two feet to compete with the world. Simple economics. How do you expect artists to survive without work when you outsource their jobs?" she questioned.
Several others have come forward to break down the stance posed by Sharmeen Obaid Chinoy on outsourcing Turkish actors.
It is easy to perhaps speak on behalf of Pakistani celebrities as a consumer and express how big of a heart you have, however, the industry is pretty much in its nascent stage, with a lack of funding. It is reviving and lacks financial encouragement for both, its projects as well as its artists. The same sentiment has rung true during Vasay Chaudhry's interview with Rafay Rashdi, where the writer turned actor stated how he sometimes has to overwork because even for his most hit and recognized works, he does not get any remuneration, other than the original ones.
He mentioned how any hit series in other parts of the world, for example, F.R.I.E.N.D.S, still pays the writers their royalties if the show runs today. Talking about how producers start to not give work to writers after their hit dramas, as they start charging more, he said, "If a writer was asking for 1.5 lacs, as a television producer you should pay him that much, that is because your channel and your production company is consuming his royalties." The actor also pointed out that it is extremely convenient for people to recommend artists, especially writers and filmmakers to take their work to Netflix. "Because the question is, does Netflix want to do anything with Pakistan?"
There seems to be an overall lack of regulation because there is a lack of legal protection in the local industry. The system does not yet stand on its feet and requires an upper hand to regulate these matters. Chaudhry also highlighted that PEMRA never seems to acknowledge these matters.
Perhaps it is time to see whether celebrities from Pakistan can be equally accommodated in the Turkish industry. While many may be quick to attack Sharmeen Obaid Chinoy over her stance towards Turkish actors, the real question is which one of the two countries can afford to have a bigger heart when it comes to importing talent.