KARACHI: Time and again, the internet reminds us why we need to be thankful for it. This time, it is for turning Bernie Sanders into a meme that is being circulated around. Known for his vocal attitude despite his old age, Bernie Sanders is adored by a number of his fans. Recently, Sanders showed up at Joseph R. Biden's oath-taking ceremony looking his adorable self: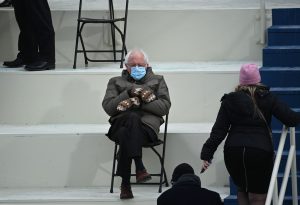 Dressed in a dark green windbreaker and cute handmade brown mittens, socially distanced from the crowd sat Sanders wearing a mask on a foldable chair. The internet was quick to turn the senator into a pleasant bombardment of memes, keeping intact the cuteness Bernie Sanders has been exuding in his photo. Some of our favorite memes are:
Bernie Sanders made for a successful cameo in the show Game of Thrones:
Though we doubt someone as pure as Bernie could have made it past season one in a place like Westeros, fans who had been unhappy with how the show ended are now blissfully convinced about an alternate ending:
See if you can spot him here!
Similar to his own global outreach, Sander's memes have made their way to India and Pakistan too. One of the best ones had Hrithik Roshan trying to convince Sanders to move back to their home in India, Raichand Manor.
After being made aware of the memes, Bernie Sanders has replied in a way only he could. Candidly talking about his mittens, the senator said, "It makes people aware that we make good mittens in Vermont." He also added that there are good coats available in Vermont as well.
Appreciated for his candidness, Bernie Sanders has been lauded by users for his response on becoming a global meme. "I'm so glad Bernie has a sense of humor. I have so enjoyed all the Bernie mitten memes. It was all in fun. We all needed a good, honest laugh after what we've been through over the last four years. Lightheartedness is so good for the soul and healing," a user wrote in the comments section under Garrett Haake's tweet.
We wish all the world's politicians to have the same candidness and encourage all the "memers" to spread positivity and light through jokes like these.