KARACHI: The polls are upon us. The general elections are scheduled to take place in July 2018, and the deadline to register yourself as a voter has been extended to April 30. As of March 1, 2018, the total number of registered voters according to National Authority of Database and Registration Authority (NADRA) are 104,261,581 out of which 58,463,228 are males and 45,804,353 are females.
But before we get into the how, let's see if you can or cannot vote.
Are you eligible?
You can be a voter in the general elections if you are:
1. A citizen of Pakistan
2. Above 18 years of age
3. Holding a valid Computerised National Identity Card (CNIC) issued by NADRA
4. Not declared of unsound mind by a competent court
5. Deemed a resident under section 27 in the electoral area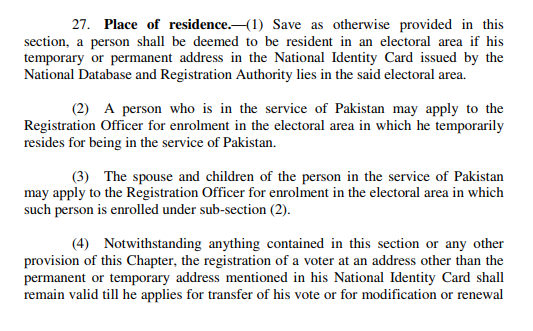 Check your registration status
Since the 2013 general elections, NADRA and the Election Commission of Pakistan (ECP) are working in coordination to register citizens for elections.
"We create a list of eligible voters including their personal information and provide it to the ECP," reveals a NADRA official, who chose to remain anonymous.
You can check your registration status via SMS. Message your CNIC number to 8300. In less than a minute, you will receive a text message. This message will be in Urdu, and it will entail your electoral area and block code as well as your serial number.
How to register?
Even though registration is an automated procedure and is governed by the database, ECP still allows for manual registration and edits. In case a voter wants to amend any particulars such as area or city of residence or any other personal information, then they will have to register individually.
Here's how you can register yourself to vote in the general elections:
1. Fill the form here;
2. Submit the form along with a photocopy of your CNIC to the District Election Commissioner or the Registration Officer at the nearest NADRA centre.
This article is part of a series on 'how to'. Read the previous article on this series here.