KARACHI: In the new normal, artists all over the world have had to rethink and redesign public events. Be it concerts, music awards or television awards, many events have gone digital this year. The local and international fashion industries, too, have adapted to new methods. The latest fashion event to go digital was the Green Carpet Fashion Awards 2020. Two local stars to represent Pakistan on the international platform were none other than Sajal Aly and Ahad Raza.
"I am proud to support and be a part of the prestigious Green Carpet Fashion Awards 2020 hosted by none other than @robertdowneyjr. See you there with all your favourite international stars!" Raza announced on his Instagram. Sajal Aly, too, shared the news on the same platform and was seen wearing her wedding dress at the virtual event in order to support sustainable fashion. "If you love something, wear it again & again", she urged her followers.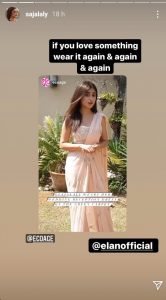 Aired on October 10, Robert Downey Jr. introduced the award ceremony as the "first event to use augmented reality, film, digital and holograms within its presentation," adding to its already unique approach towards fashion and lifestyle. "Fashion is as artistic as poetry and as influential as politics. What we wear speaks to who we are and what we believe in," Jr. opened the show on an inspiring note. The event itself aimed to send a message of change and focused on rebirth and solidarity needed for environmental and social justice.
The awards were distributed amongst five categories, out of which Zendaya picked up the GCFA Visionary Award based on the inclusivity and diversity that she has brought to the fashion industry. To accept the honour, Zendaya collaborated with stylist Law Roach for a vintage Versace gown in chocolate brown, first worn by model Anna K on the autumn/winter 1996 runway during the year of Zendaya's birth. The other four awards focused on the people who work behind the scenes to create fashion's handprint including tailours, cobblers, embroideries, and pattern makers, as opposed to big mainstream brands that typically dominate award shows.