KARACHI: Have you ever wished to attend an outdoor concert but not have other people invade your personal space? Do you enjoy swaying to the music during a live performance without bumping into at least five other people? As a woman in Karachi, how many times have you felt completely at ease in a public space? For a socially anxious woman, I did not have to worry much about any of these last night. I attended the first socially distanced concert by Salt Arts at Beach Luxury and here is what it looked like.
The ticketing queue at Comeback Karachi saw some impatient and tired attendees waiting to be let into the ground as the clock ticked passed the time promised by the management. While a few people complained about having to wait for over an hour, Karachiites managed to stand in a line in a respectable manner with space between each group of friends/family even though there were no floor markings around.
When the doors finally opened a little after 7 pm, a member of the security crew took each attendee's temperature before letting them go through. All visitors and crew members were also expected to wear masks at all times and sanitizers were placed at different stations around the venue. Cloth masks by One Life Masks were also available at a stall for those who might want to buy a new mask or replace their used one. The management team also wore customized cloth masks to replace the traditional plastic ID cards and reduce waste.
The most aesthetically pleasing site though had to be the garden where the performances were to take place. Situated next to Beach Luxury's waterfront was a framework of bamboo barriers decorated with colourful fairy lights. The barriers were placed to separate rows and prohibit people from violating social distancing rules. The barriers were further marked with stickers to ensure space between attendees within a row. The production design definitely proved how sustainable resources can be cost effective and beautifully laid out. However, the management team had to remind the audience more than once to keep physical distance between themselves and spread out as much as they wanted since a few rows at the back remained empty.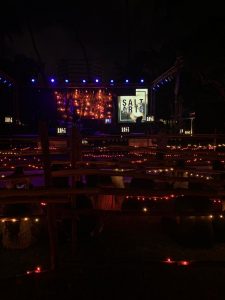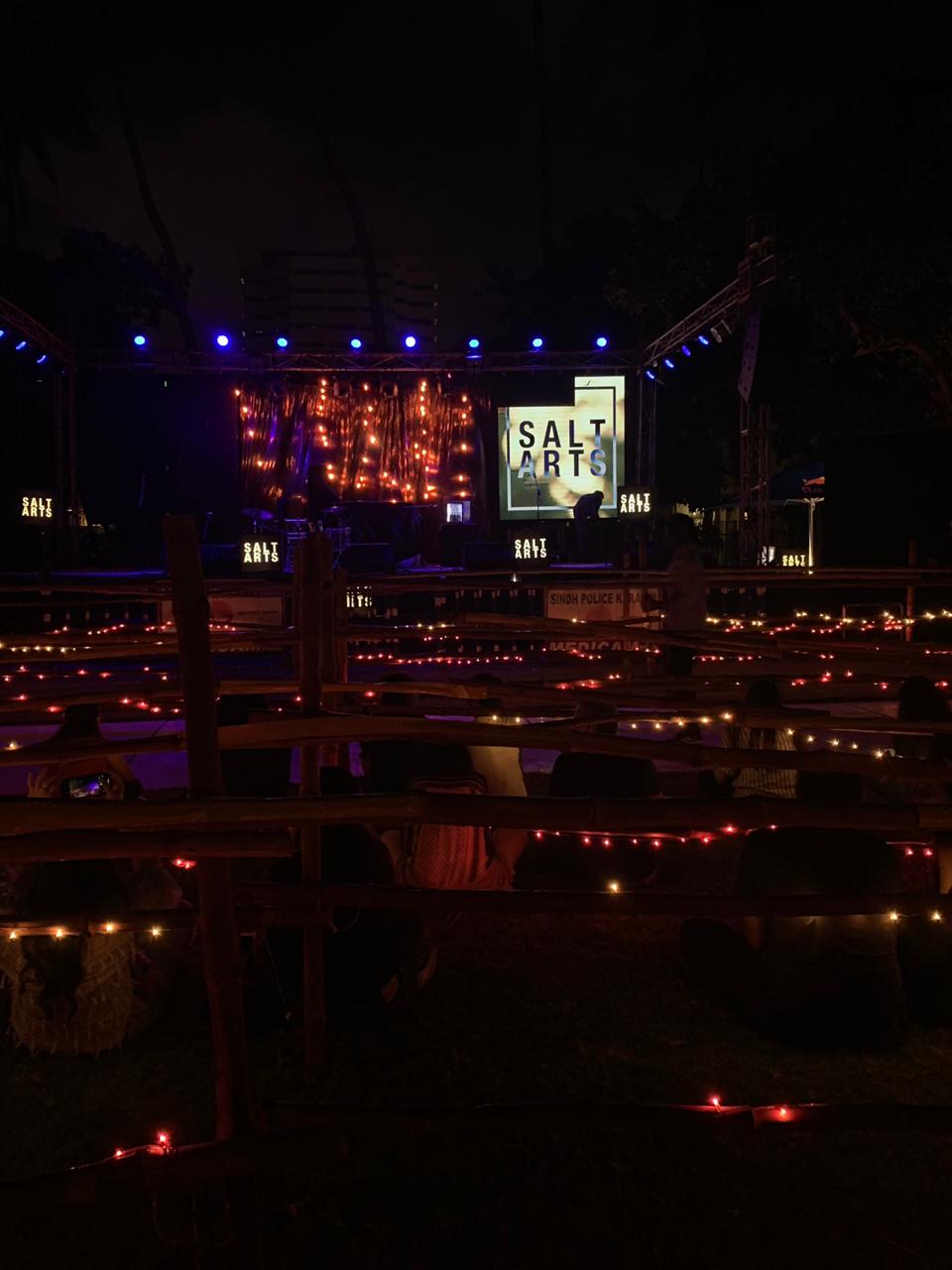 The show was opened by tribal folk quartet Khumaariyan who entertained the audience for over an hour, engaging them in fun dance routines from time to time. However, the performance might have been a little monotonous for the duration. Talha from SomeWhatSuper, however, was the star of the show by a mile. The only performer to wear a mask even though he was alone on the stage, Talha had the audience up on their feet from the very beginning. With remixes of classics like Woh Lamhay by Atif Aslam, he allowed the audience to sing along, while tracks like Sibbi and Bandook by SomeWhatSuper had the concert goers screaming for replays.
A disappointment for the attendees, however, was the fact that Kaif Ghaznavi, who was supposed to be the third performer of the night, was unable to show up due to a personal commitment. The news was broken to the audience right before the show started but by the time the show ended, Karachiites seemed to have forgotten about it.
Attending a socially distanced concert during a pandemic surprisingly caused less worries for me as an attendee than a regular show does. While the show did not always allow for audience members to sing along with the performers as so often happens in mainstream concerts, being able to dance freely in one's own space was definitely a plus. If audiences continue to cooperate with the organizers, we might even find our way to traditional events one day.