KARACHI: The Pakistan Film Producers Association (PFPA) recently sought a stay order on EMI, to avoid illegal ownership of local hit film music. According to recent developments, any film or TV producer opting for a remix of an old song will have to seek NOC from PFPA. Industry veteran Rashid Khawaja, who is also the CEO of Entertainment Pakistan, shared the news on social media yesterday.
A circular was released by PFPA in this regard, under the supervision of Chairman Amjad Rasheed. It states, "Chairman Amjad Rasheed sahab, Chairman Arbitration Tribunal Mohammad Ijaz Kamran sahab and Shehzad Rafiq sahab have gotten a stay order against EMI Pakistan and other music labels with their consistent efforts. The stay order is issued by the IPT Court."
Senate calls for the revival of Pakistani film industry

They claim that these music companies have been using Pakistani film music illegally without copyrights. This, according to them, is causing damage to local filmmakers. "No one can use film music illegally anymore unless they seek NOC from the association. Legal Advisor of the Association, Mr. Asghar Ali will soon share details on the matter in a press conference in Karachi," the circular reads further.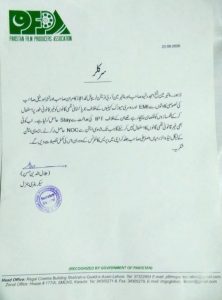 Cutacut reached out to Zeeshan Chaudhry, Chief Operating Officer at EMI Pakistan, for a comment. "We have not received any legal notice in this regard," he informed, dismissing any claims made by PFPA. "We don't believe this. There is a legal process for every issue with perspectives from both parties. Nobody sought our point of view on the matter. Neither the case is in our knowledge nor we have been asked to appear anywhere. It is a circular that they have issued, not a legal notice. PFPA does not control anything, they cannot give permission to anyone over anything. We are least bothered about it until the court issues us anything."