KARACHI: Sushant Singh Rajput's death has left many people feeling the brunt of what the actor was going through in his last moments. The actor, who died by suicide, has made many people talk about the dark side of Bollywood, with many going as far to claim that nepotism and bullying made Sushant feel like an outsider who was always unwelcome.
Read: Kangana Ranaut puts Bollywood on blast over Sushant Singh's death
Actors on this side of the border are recovering from the shock and pain as well, wondering how to change the way things are done to prevent a tragedy like this from happening again. Mansha Pasha thinks that one way is to stop pitting celebrities against each other in talk shows, asking questions that will result in some actor being made fun of on the show.
"We need to stop asking these questions: Which actor shouldn't be in the industry, which actor doesn't know how to act, if you had to leave some celebrity to drown in the sea, which celebrity would you choose," she spoke on an Insta live video. "We don't know whose heart we're breaking by these jokes of ours," she said.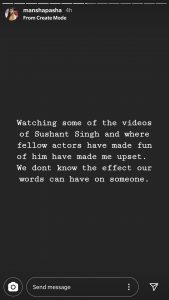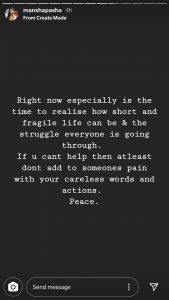 "I would like to request all hosts to stop asking such questions and all guests to not answer such questions. Who are we to say where someone should or shouldn't be. Focus on your work. Just for your two minutes of publicity, you're willing to hurt someone," she complained.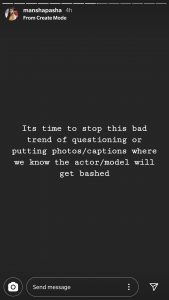 She ended her thoughts on a simple note: be kind.