KARACHI: Women from different economic backgrounds as well as professions gathered at Karachi's Empress Market Tuesday to present their demands surrounding the women's march, called Aurat March, to be held on March 8 in commemoration of International Women's Day.
Being organised independently under the name "Hum Aurtain" (Us women), individual women have come together to raise voice and march for women's rights to be held in Islamabad, Karachi and Lahore coming Friday.
Read: We spoke to the woman behind 'Khud Khana Garam Karlo' poster at Aurat March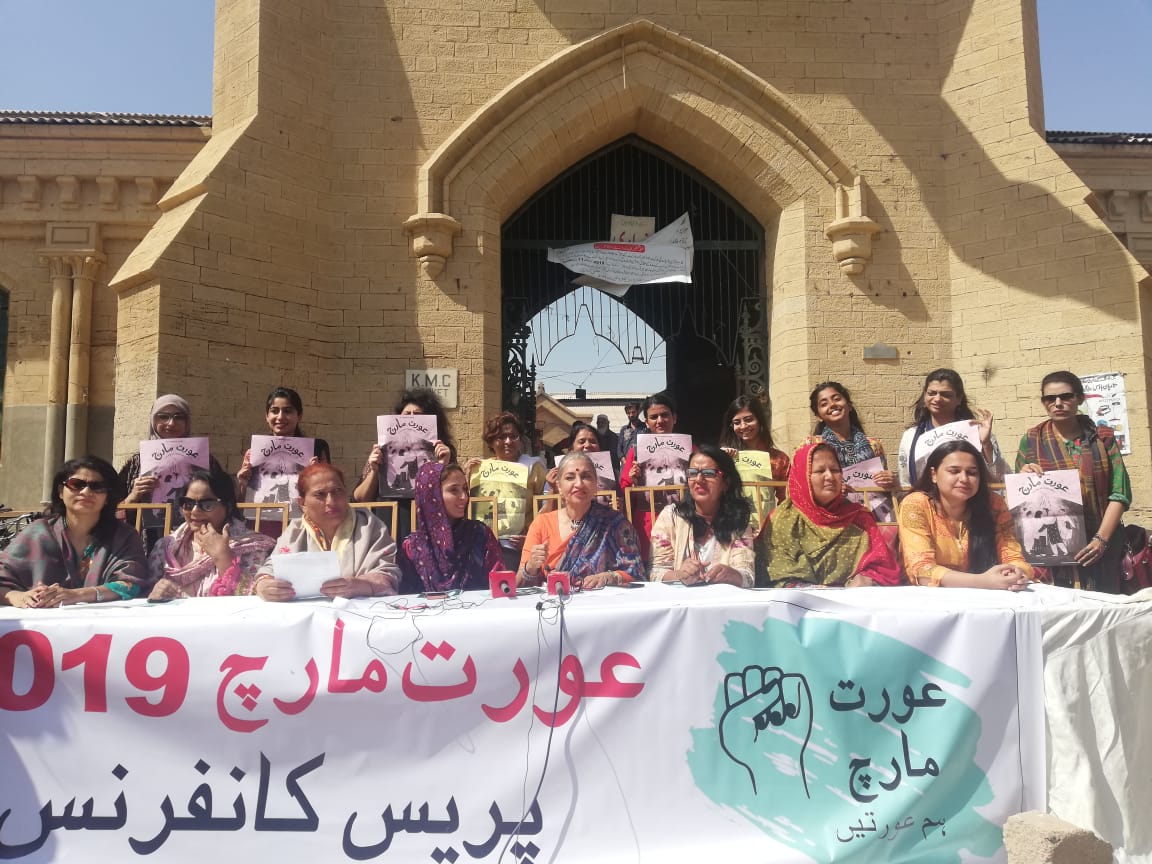 "Aurat March…is a collective effort, not led by a single group or organisation, but planned by 'Hum Aurtein'- a collective of women belonging to diverse ethnicities, classes and sections of society," the press release stated. In Karachi, the march will be held at Frere Hall and the event is expected to begin by 3:30pm.
"The Aurat March aims to unite women for social change, gender justice and a call to end militarisation and violence in public spaces," it added.
"We envision a world in which women from all groups, ethnicities, religious communities, strata and economic backgrounds are free to exercise autonomy over their lives, and build just and peaceful communities," the statement further said.
Women from diverse backgrounds and professions presented their set of demands on Tuesday's press conference, where they spoke about different issues that affect women such as economic justice, environmental justice, women's political participation, religious discrimination, infringement of reproductive rights and bodily autonomy.
Speaking about economic justice, Jyoti, who represented women hawkers affected by the anti-encroachment drives in Karachi, shared how it has adversely affected her family.
"Our grandmothers used to sit here (Empress Market)… we have been here for generations," she said, adding that the city is an unwelcome and unsafe place for women to set up their businesses.
"It is easier for men to set up their stalls anywhere in the city, but we are women. Where do we go?"
Fatima Majeed, who represented the fishing community, pointed out that women are often left out of the decision-making process, which should be rectified.
Adding to the demands, Sassui Lohar, a vocal activist for missing persons, spoke about how women are harassed when their houses are allegedly raided by authorities.
"Nobody will understand your feelings. Only you know what you go through so you need to speak up," Lohar, whose own father has been missing for two years, said.
"We may not have weapons but we have our tongue. Our voice has a lot of power."
Read: How to be a good feminist ally
Representing the trans community, activist Bindiya Rana said any society that wants prosperity for itself must include every person, which includes acceptance of transgender people in all walks of life.
"In our community, everybody sits together to eat, regardless of their gender identity or sexual orientation, class, ethnicity or religion," Rana said.
She further highlighted the inequality that exists among men and women's labour.
"A man's duty lasts for 8 hours. Then he comes home and sits on the couch, one leg resting over the other. A woman's duty is 24 hours; she works and is expected to do housework and cook for her family."
Speaking about reproductive rights, Sheema Kirmani, social activist and dancer, added that a woman must be respected whether she bears children or not.
Shedding light on the plight of women, minority rights activist Ghazala Shafiq highlighted that much of the abuse and violence occurs in households where women are solely homemakers.
Representing the legal community, lawyer Shumaila Shahani demanded a committee overlooking sexual harassment complaints should be set up at courts.
"Currently, there is no such body that exists within the court system. There is nobody to go to if somebody wants to file the complaint," Shahani noted, raising the issue of sexual harassment and gender discrimination that women face in the judicial system.
"This city is not made of buildings. This city is made of its people, of which women make a majority of the population," said feminist activist Qurat Mirza at the press conference.
"There was no planning when Karachi was being built. There was no planning when Karachi was being uprooted," she added.
Recap: Aurat March 2018 
"We had more than 20 women in 2018 who envisioned Aurat March. This year, the number has grown," Mirza said.
"Nearly a 100 women have been working tirelessly for weeks, coordinating with each other, doing outreach, organising and mobilising communities to join the show for solidarity," she added.
Activists at the press conference further emphasised that the march is not being funded by any political party, corporate or NGO group.
"It is a citizen-led effort strengthened and funded through small contributions from individuals who believe in the cause," the press release added.
"There has been a lot of engagement via social media," Atiya Abbas, a young feminist involved in organising the march, said.
Women working in the public health sector, education sector, corporations and industries, from diverse backgrounds, professions and communities will be attending the march.
Last year, the march drew a crowd of approximately 5,000 people, including women, trans people and men, in Karachi alone. This year, the hope is that the visibility and solidarity will be doubled.