KARACHI: Here's a lesson in humility! Nobel Peace Prize winner Malala Yousafzai was invited on The Daily Show with Trevor Noah Monday night where the young activist mentioned that she never brings up her massive achievement as a Nobel laureate in conversations.
Malala has been making appearances on television lately to promote her latest book We Are Displaced, highlighting stories, including hers, of refugee girls and women from around the world.
In the joyful banter before they got into a serious conversation, Noah joked how he would be terrified if he were to teach a class with Malala as her student. But the young activist said everybody treats her like an ordinary person. It didn't even come up in her university interview, the Nobel laureate said.
"And you don't bring it up either?" Noah asked shockingly, to which Malala replied in the negative.
"Malala, let me teach you something about 'swag'," the comedian told the Nobel laureate. "If you have a Nobel Prize, you should start every sentence with 'Nobel Prize' even if it's not necessary."
"If you're at Starbucks and they [ask], 'What would you like?', you say, 'Well, as a Nobel Prize winner, I'd like a Venti."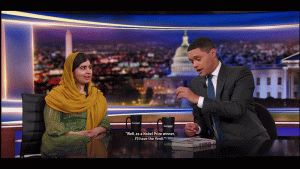 We Are Displaced
When asked what made her write the book when her own story of displacement is so compelling, the women rights activist said that refugees and immigrants are mostly only talked about in numbers and figures.
"We hear about refugees but we never hear from refugees," she said.
The proceeds collected through her book will be poured into the Malala Fund that is focused on making education accessible to all girls and women. But why did Malala choose her foundation out of all the causes she could have pursued, Noah asked.
Read: In case you still think Malala doesn't deserve the Nobel…
"If half of the population of the world is not getting education, is not empowered then the world is losing, we all are losing," Malala said.
"Educating girls up to the secondary level would add up to $30 trillion to the world economy," the Nobel laureate added. "Refugee children's education is equally important, especially of young girls, who often times in refugee camps are forced to get married."
The education activist shared how in a refugee camp in Lebanon, 41% of girls were married before they turned 18.
She said the work of Malala Fund is focused on providing complete quality education, primary and secondary, to girls.
Role of Men 
In her appearance on The View, Malala spoke about her father Ziauddin Yousafzai, saying that there are many men in the developing countries that believe in women empowerment. She said that her own father is not an anomaly.
"I have met many fathers in refugee camps, I am mentioning this because often we talk about fathers in these developing countries … or refugee countries… we think of them as misogynistic people not believing in their daughter's education but there are many who are challenging the status quo."
Read: Malala Yousafzai in numbers
However, she also said that it was important to teach men to question their own mindset regarding women's education.
Speaking about his father's feminist struggle, she said, "The first person he had to fight was himself and his own mindset." In fact, she added that he was a feminist before he even knew about the term "feminist".
"That's what we need to teach men: to fight themselves and the thoughts in their heads [against women's right to education]."
Trump's Travel Ban
Speaking on CBS This Morning, the Nobel laureate said the current immigration policies of the United States do not "reflect the values of America".
"I hope that the president and other political leaders in the US reflect on what the American people believe which is welcoming and supporting refugees," she added.