KARACHI: A few days after Punjab Bar Council (PBC) landed itself in controversy, their chairperson has written a letter to the Council of Islamic Ideology (CII), seeking help in justifying their use of sexist quotes in official diaries.
"PBC is facing great difficulty to pacify the sentiments of women belonging to different fields aroused after having gone through a quotation in the legal diary published by the bar council in year 2018," wrote Bushra Qamar, chairperson of the council's executive committee.
Read: Twitter calls out Punjab Bar Council over alleged use of sexist quotes in diary
"The controversy is being highlighted in social media … which needs to be calm down with some concrete answer," she added in her letter to the CII.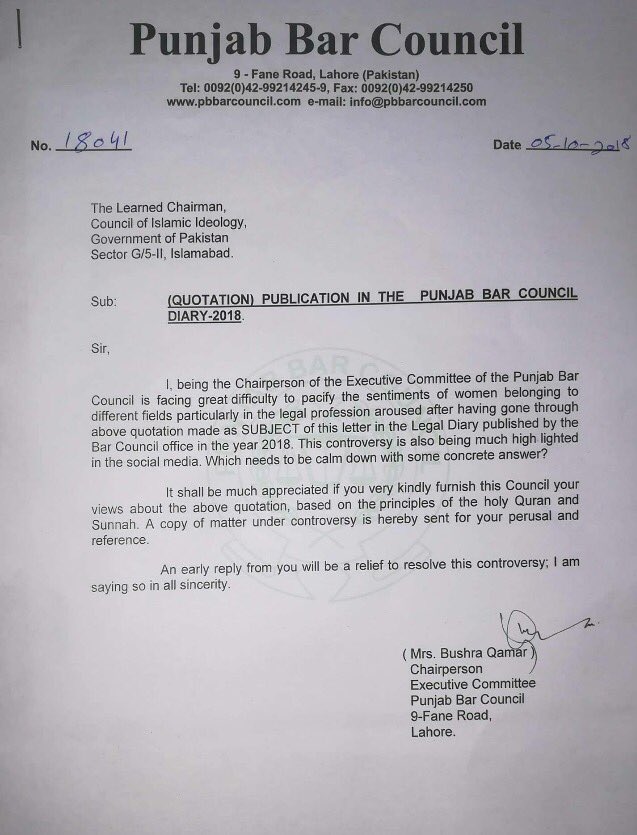 The bar council asked clerics of CII to help them find religious backing for the sexist quotes. "It shall be much appreciated if you very kindly furnish this council your views about the quotation based on principles of the Holy Quran and Sunnah," the letter stated.
A public relation manager at the bar council confirmed that the letter was sent by the chairperson of their executive committee, following outcry on the social media.
Earlier, an image of an official diary of the legal fraternity, depicting a sexist quote on its header began making rounds on social media.
The quote stated: "Jis qaum ne auraton ko zaroori se zyada azadi di woh kabhi na kabhi zaroor apni ghalti par pashemaan hogi (The nation that gives too much freedom to its women will regret their mistake sooner or later)." The issue surfaced when an NGO, Equality and Diversity Committee (EQD), took up the matter and posted the image on Twitter, calling for the removal of such sexist quotes.
Read: Patari, sexual harassment and Ali Z, explained
Soon after, another user, who happens to be a lawyer, posted an image of another similar quote. It said: "Aurat ke saath zindagi basar karna mushkil hai, magar aurat ke baghair zindagi basar karna iss se bhi zyada mushkil hai (Living with a woman is difficult but living without her is even more difficult)."
Their media representative told Cutacut that the mentioned chairperson has sent the letter to the religious council.