KARACHI: In a country where political rule is fueled by a combination of dynastic politics and military dictators, the role of first ladies has been complex. 'First Lady' is an unofficial title given to the wives of prime ministers and presidents in Pakistan. They have no official responsibilities or duties – and yet some of the famous ones, like Kulsoom Nawaz and Nusrat Bhutto are known for their role in keeping the country's leading political parties alive and visible during times of turmoil.
Nusrat Bhutto succeeded her husband as the leader of the Pakistan's People's Party after his death, and led PPP's resistance against military dictator General Ziaul Haq. According to media reports, not only was she subject to multiple arrests due to her political activities, she also served two full terms in the National Assembly and played an important role in her daughter's government.
Read:5 female Urdu writers you should be celebrating
Similarly, Kulsoom Nawaz, has had to step into lead her husband's political party when he hasn't been able to. According to media reports, when General Pervez Musharaff overthrew Nawaz Sharif's government in 1999, Kulsoom Nawaz was arrested by the Pakistani Army Corps of Military Police. Soon after, Sharif made her President of the Pakistan Muslim League (N) and she led the political party until 2002. Sharif's recent disqualification resulted in Kulsoom Nawaz having to run for office from her deathbed. Even while battling cancer, Kulsoom Nawaz stood by her husband's political party, and won the NA seat.
Rana Liaquat Ali Khan, another example of a politically active first lady, was the first female governor of Sindh and the first female ambassador of Pakistan. Jazbah Magazine reports how her career as a stateswoman started after her husband's fateful death, but she was politically involved and motivated from the onset and was an important female representative the Pakistan Movement.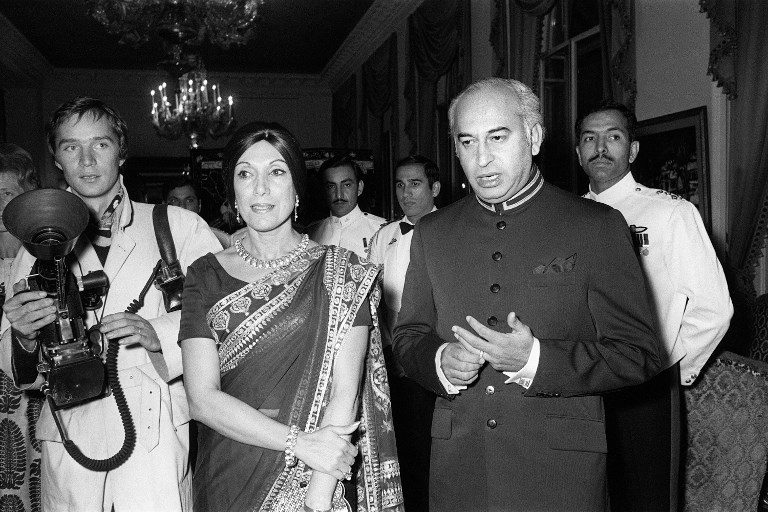 While Pakistan is one of the few countries to have had a female head of state, it is also politically regressive and patriarchal. Kulsoom Nawaz, herself, led a party that has come to allow sexist politicians like Rana Sanaullah to represent it. Women in politics are tasked with representing a population that does not always view them as equals. First ladies, especially, are faced with the impossible obstacle of standing behind a man when he is in power, and stepping in to represent him when he is being persecuted by the state. Their contributions to the running of our democracy often go unappreciated. Even though Nusrat Bhutto and Kulsoom Nawaz were matriarchs of families that have been accused of exploiting the dynastic access they have had to our economy and our people, both women have ensured that the political parties they represented were heard and visible during periods of dictatorial rule that could have led to the demise of our democracy and the political parties that participate in it.
Read:First Karate medalist at Asian Games says she's a champion, not a victim
First Ladies occupy an important place in the history of our country, even though they are often left out of the narrative. They never receive official titles or compensation – and while some may rightly argue that they enjoy access to the establishment that their families represent, it is also important to acknowledge the contributions they have made, despite having to stand behind their male counterparts.
Kulsoom Nawaz's death marks the loss of a woman who has borne the burden of silently leading and supporting an extremely complicated, often patriarchal, but ultimately vital, political party of Pakistan. May she rest in peace.