KARACHI: Today would have marked the 88th birthday of Fatima Surraya Bajia, a famous Urdu literary icon, had she still been with us. To honor her life and her legacy as a female Urdu writer, we have put together a list of five women who made important contributions to the Urdu language, and some facts that you should know about them, compiled from various media reports.
Video: Conceptualised and compiled by Aiman Rizvi. Edited by Fahad Alvi
1. Ismat chughtai (1915-1991)
Ismat Chughtai was famously known as the 'Great Dame' of Urdu Literature.
She was a short story writer who wrote important stories about women.
Many of her works were banned at different points in history, and she even faced a court trial on charges of obscenity for her short story Lihaaf which explored a sexual relationship between two -women.
She was a feminist icon who was also a member of the Progressive Writers Movement.
2. Qurratulain Hyder (1927-2007)
Quratulain Hyder is a masterful Urdu Fiction writer, academic and journalist.
Her literary work includes 12 novels and novellas and 4 collections of short stories.
Aag Ka Darya her most important work, spans the timeline of two thousand years and ends with the partition of the Subcontinent.
Even though her family moved to Pakistan during 1947, due to her anti partition sentiments Hyder had to move back to India.
She is considered an equal of her famous, internationally renowned male contemporaries such as Milan Kundera and Gabriel Garcia Marquez.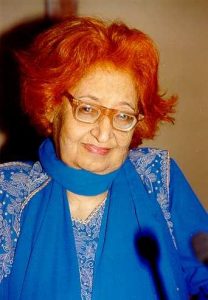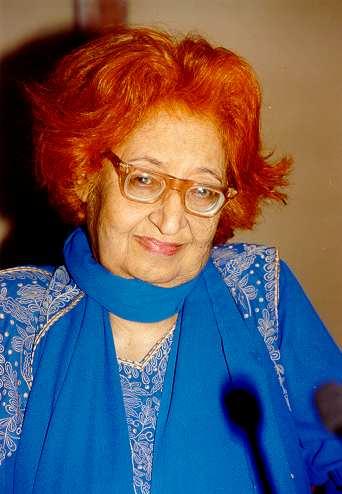 Bano Qudsia 1928-2017
Bano Qudsia wrote novels, short stories and dramas for television and stage.
Qudsia was the recipient of both, the Sitara-i-Imtiaz and Hilal-i-Imtiaz by the Government of Pakistan for her services to Urdu Literature.
Many people looked to Qudsia's literary texts for spiritual guidance.
Kishwar Naheed 1940 – Present
A feminist Urdu Poet and the recipient of the Sitara-i-Imtiaz, Kishwar Naheed is an Urdu writer who is heavily influenced by the Progressive Writers Movement and Socialism.
Her poetry is political and promotes the ideals of freedom, equality and justice.
She is also an important translator and has worked to make texts from other languages accessible to her Urdu speaking audiences.
Her contributions to Urdu poetry have been essential to the innovation and growth of the craft.
Fahmida Riaz 1946 – Present
Fahmida Riaz is an important Urdu writer who is also famous for her progressive activism.
Along with writing fiction and poetry, she launched an Urdu publication 'Awaaz'.
The liberal and politically charged material published in Awaaz during the era of military dictator Zia-ul-Haq resulted in the jailing and persecution of Riaz and her husband.
She eventually fled to India with the help of another important female writer, Amrita Pritam.