KARACHI: Khizra was climbing the stairs and chatting with a friend at college when she felt a whack on her bottom. She turned around to see a faculty member holding files in her hand, her choice of weapon.
"I was busy talking to my friend when I was spanked by Ms Fareeda Ibad who was a faculty member at the Institute of Business Management (IoBM)," Khizra recalls. "She asked me if I was aware of the dress-code policy of the institute? I wasn't since I was new," she says. The teacher proceeded to read out the policy to her.
What is the policy?
At the outset of every semester, universities send their students 'dress-code policies' via email. These policies are usually vague when in comes to establishing what is allowed and what is not to wear on campus.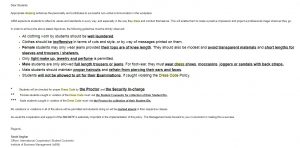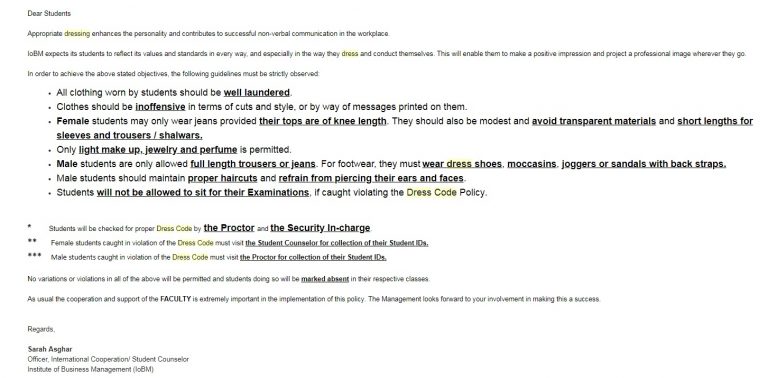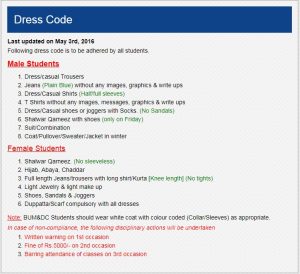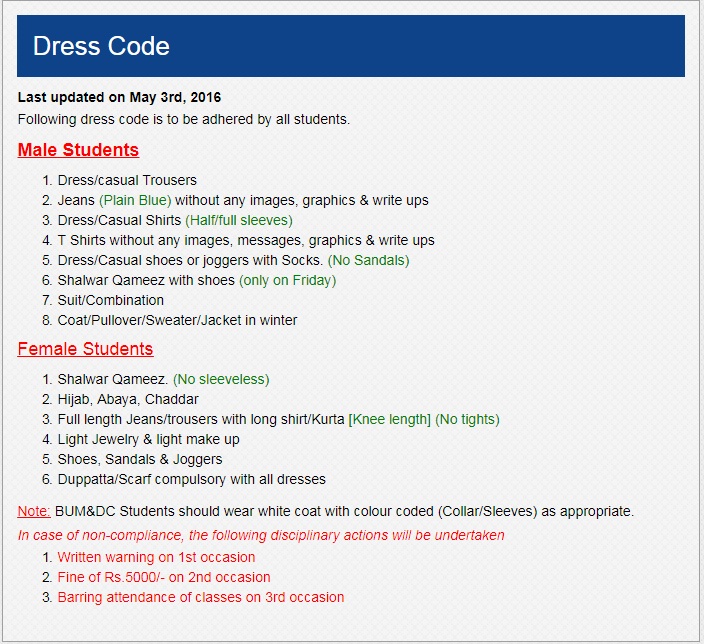 The dress code policy does not apply to male students at most of these institutes, at least in the strict manner it does to female students. When asked if he was ever told off for being inappropriately dressed, IoBM graduate Faysal Mustafa Soomro says, "It never happened to me it's happened a lot to women at my college from what I've heard."
Read: Famous women, here's how feminism affects you
At IoBM men are allowed to wear T-shirts but women are not. Similarly, in Bahria University, men are allowed to wear jeans but women can't.
College-going women share 'humiliating' experiences
Although shaken from the incident, Khizra eventually became accustomed to such harassment at the hands of the college administration. Months after the first incident, she was stopped at the entrance of the college by a guard.
"I had to go to the student advisor's office where I humiliated even more when an official behind the desk asked about my ethnicity," she recalls.
"She asked me if I was a Pakhtun and as I said yes, to which she said it doesn't look like it," she adds. By this time, Khizra had had enough.
After winning the support of other female students with similar experiences, Khizra began a campaign on social media against what she claimed were the institute's discriminatory policies towards women.
In response, the admin called a disciplinary meeting and threatened to expel or suspend all the students involved in the campaign.
"They called in my mother and who had to ask for forgiveness when they threatened to expel me. My career and education were at stake and that's all because of what I wore," she said.
Sana, also a student of IoBM in the media studies department, faced a similar situation when she was stopped by a guard.
"I was wearing formal clothes and had my shirt tucked in. I had a meeting at my work after class," Sana, who was in her last semester during this incident, recalls.
She was ushered to the admin office for breaking the dress-code policy. An admin official termed her attire "offensive" and asked if "this is what she wears at her workplace?"
She says she and many other women wore shawls while entering the institute but the guards would tell them they knew how they were dressed under the shawls.
Read: Things Pakistani men need to stop saying to women 
On the other hand, Natalia Awais says her college, Shaheed Zulfikar Ali Bhutto Institute of Science and Technology (Szabist), does not have any sort of strict dress code. However, during her second year, she was told by a guard at the entrance that she was wearing shorts and should be careful at the campus.
"I was wearing capri pants and no one in the faculty or management had ever restricted us from wearing those," Natalia says. "He let me go and it never happened again."
Natalia says Szabist is one of the few places, if not the only, where women are not be stopped at the entrance for inappropriate attire.
"I was in the media sciences department where almost all faculty members were staunch feminists and advocated women's right to wear whatever they wanted to," Natalia says.
The situation at Bahria University is similar to IoBM. Student Nimra Khalid says she was stopped at her college's main gate and asked to hand over the ID card. When she went to retrieve it, she was reprimanded for her choice of attire. "Even now you are not in appropriate clothes," Nimra quoted a university official telling her.
Her friend and college classmate was summoned to the admin office and scrutinised from top to bottom. An admin official went as far as telling her to turn around so that he could inspect her from the back. Following the humiliating experience, she did not show up for classes for a few days.
Are gender specific dress codes legal?
Legal aid initiative Qaaf se Qanoon co-founder Abira Ashfaq thinks maintaining a restrictive environment in the name of a dress-code policy is in clear violation of the Constitution of Pakistan.
"The freedom to wear what we want comes under Article 19 of the Constitution. Wearing clothes of your choice is freedom of expression which is guaranteed by the Constitution," says Abira.
"There is a reason college and universities don't have a uniform because in academia, freedom of expression is encouraged," she adds.
The freedom, in this sense, can only be subject to restrictions if it goes against decency and morality. "But decency and morality are vague terms. What many consider as decent might be indecent for many others. Colleges can't decide what kind of attire is indecent or not on their own," argues Abira.
Further, institutes that have discriminatory dress-code policies are in violation of Article 25 of the Constitution by not allowing men and women equal protection of law.
Article 25a Equality of Citizens states: "All citizens are equal before law and are entitled to equal protection of law. There shall be no discrimination on the basis of sex."
"A girl who gets insulted by male official at her college can actually file sexual harassment complaint to college's inquiry committee where such cases are heard." Abira says, adding that an appeal can also be filed with ombudsperson if the complainant is not satisfied with the verdict.
"Every institute has his own rules and regulations," said Riaz Contractor, IoBM's proctor, said on the issue and declined to comment further.
Bahria Univeristy admin did not provide a response despite repeated attempts.