KARACHI: Election season is in full swing with Karachi's Gulshan-e-Iqbal area covered with banners, flags and campaign trucks of political parties, while loud music plays at their camps. But there is one significant change: the missing presence of Muttahida Qaumi Movement-Pakistan (MQM-P), which used to be the unchallenged power in the area, now demarcated as NA-243.
A truck passes through the MQM's election office situated on University Road with an image of Pakistan Tehreek-e-Insaf (PTI) chief Imran Khan and along with the text: "Prime minister from Karachi".
Inside the office, MQM candidate for NA-243 Ali Raza Abidi, or Abidi bhai as he is known to his followers, sits comfortably. He is one of the many candidates vying for a seat in Parliament on NA-243. PTI's Imran Khan and Pakistan People Party's (PPP) Shehla Raza are his main rivals.
"As part of my campaign, I'm telling voters that a person from the outside can never be of any use to them. He (Imran) will win and leave for Banni Gala, whereas we are here to stay," says Abidi.
Read: Jibran Nasir vs the police
The MQM has been struggling to find its feet since a Rangers-led operation against it was launched in 2015. The operation intensified after party leader Altaf Hussain made a controversial and inflammatory speech in 2016. The party lost dozens of offices which were razed to the ground in the crackdown. These offices used to serve as policing centres where people would go with their complaints and matters ranging from domestic to civic issues.
"Despite that, we have maintained a connection with our masses who will be coming out on the election day to vote for us," says a confident Abidi.
The party is often criticised for its 'bhai culture'. The MQM argues it treats its members as a saathi (friend) or bhai (brother) who can be relied upon whenever needed. Critics, however, believe that this method is used to intimidate and create fear. Nevertheless, the party has a huge following in the city, which it had been ruling undefeated since 1987.
"MQM manages to retain its vote bank even when crises surface as we have seen in past," says Abidi.
Read: How to register for General Elections 2018
The candidate is unaffected by the popularity of his main opponent, Khan. He believes he has more to offer to the people of Karachi. "People might vote for Imran's charms but one thing is for sure, he won't do anything for Karachi's population. We want to introduce new legislations in the NA and Sindh Assembly for empowering local governments through which we will work for the masses," he says, adding, "If PTI wanted to raise a voice for Karachi, their leader Arif Alavi could have done this in the NA."
During a campaign rally in May, Khan laid out a Karachi-specific agenda. Among the 10 points are, holding mayoral elections in the city, which he believes will fix many of Karachi's problem, including water and electricity shortage. He also vowed to improve education, healthcare and security in the city.
Other hurdles
MQM's chances of the winning might also be affected by the new delimitation, as around four goths have been added to NA-243, which Abidi thinks are inclined more towards the PPP. The new constituency is made of parts of NA-252 and NA-253.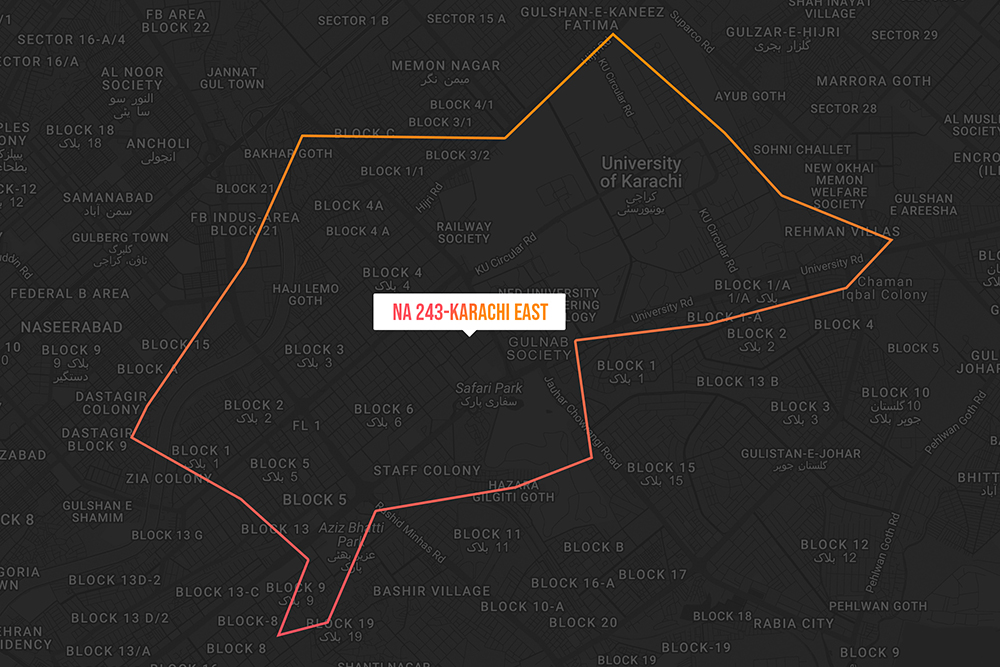 The previous election in these constituencies was won by MQM's Rashid Godil and Muzammil Qureshi, respectively, with PTI's candidates Ali Haider Zaidi and Ashraf Jabbar securing the second highest votes. With the party chief contesting from the area himself, chances are that the PTI will receive higher votes than last time.
Further, MQM might not secure as many votes given that party chief Altaf Hussain has been asking his followers to boycott the election. Despite this, the party is hopeful it will manage to retain its power in the city.