KARACHI: How far can one claim inspiration and how far can another claim plagiarism? That is the question on everyone's mind when it comes to the latest accusations being levied against the popular clothing brand Khaadi for having copied someone else's designs. Aspiring fashion graduates Rija and Farah took to social media to accuse the brand of having "years of hard work and dedication" "stolen by renowned designer brand." Here is all that you need to know about the claims.
In a lengthy post that was put up on their Instagram handle, the designers highlighted how their journey in the fashion industry has "been filled with countless late nights, creative breakthroughs, and a relentless pursuit of my dreams." However, all the effort they put into their work has been allegedly copied, "without giving (us) the recognition and credit that (they) deserve." But the designers aren't accusing Khaadi as a brand for copying their designs but are pointing fingers at "the people who work for these brands. People who are not creative enough so they have to steal other's idea and not give them credit. People that are too insecure about their competence that they would willingly take someone else's idea and claim it as their own rather than giving someone else an opportunity to show their capabilities."
 

 

View this post on Instagram

 
How did Khaadi cross paths with Rija and Farah and get access to their designs in the first place? "The person on my thesis jury, who had significant influence on deciding the fate of my work, was affiliated with this very brand." The designs were also highlighted at the recent TEXPO event that took place. The two events took place in February and May respectively and Khaadi launched their designs in June. As per the aspiring designers, Khaadi copied their designs in the headgears, earrings and backdrop for their newly launched collection.
View this post on Instagram
Voicing their grievances, the post went on to say, "These brands are failing to give us, the emerging and new talent a chance to prove ourselves." The post ended with an appeal to other brands, "to stand up against plagiarism and theft of intellectual property."
Despite the allegations being leveled against Khaadi, the brand has remained silent on the matter. A source close to the brand revealed to Cutacut that they consider claims such as this a non issue. The source went on to say that both brands have taken inspiration from Frida Kahlo whose work is well known and available to all. And while the pictures of the new designs were recently uploaded, the shoots and styling are done much prior and are shot months in advance.
 

 

View this post on Instagram

 
A few comments on Rija and Farah's post seem to echo what Khaadi claims. They point out the similarity only extends to the Frida Kahlo aesthetic. However, others have expressed their shock and disappointment with the brand.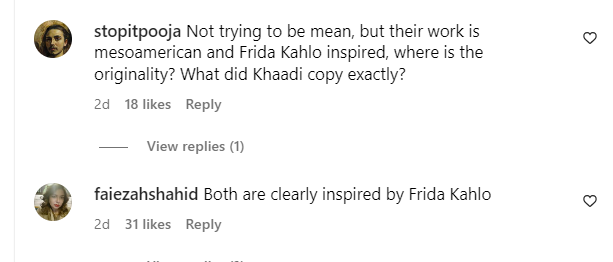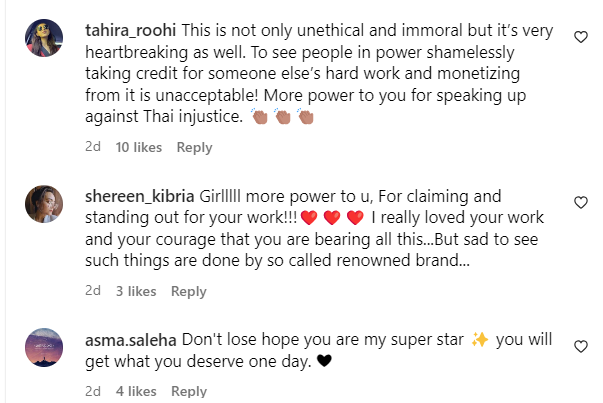 The jury is out on whether this is a case of inspiration or plagiarism. It is interesting to see how there is a fine line between the two.
Cutacut has reached out to both parties for a statement and is yet to receive a response.