KARACHI: Up until the mid of 2022, no one really knew who Andrew Tate was. Outside of the kickboxing arena, he wasn't a household name. So, how did the controversial influencer end up accused of sex trafficking, end up in Romanian prison, end up a Muslim, end up clashing with the BBC and also end up accused of a crime yet again? This is all that you need to know about Andrew Tate and everything that happened before and after his arrest.
2005 – 2013: Success in the arena
Before Andrew Tate became notorious for his misogynistic views and arrest warrants, he enjoyed quite a bit of success in the kickboxing arena. By 2008, he was ranked the seventh best light heavyweight kickboxer in Britain and by 2009, he had won his first championship and was ranked number one in his division.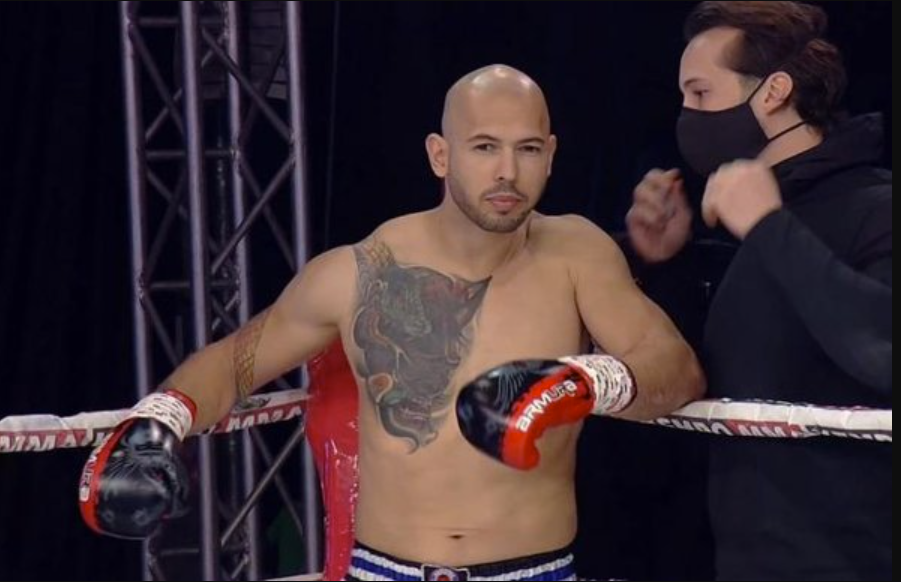 In 2011, Tate won his first world title against Jean-Luc Benoit and then again in 2013, he won his second world title in a 12 round match which made him the world champion in two weight divisions.
2016: Big Brother and the first controversy
In 2016, Andrew Tate joined in Big Brother UK but within six days, he was removed from the show following a video making rounds on social media where he was seen hitting a woman with a belt.
However, Tate claimed that the video showed two consensual adults. In a statement released on his Facebook page, he claimed that the video was manipulated to make him look like an abuser, "They cut out all the sound cause she's LAUGHING in the video. And they cut off the end of the video where she gets the belt and hits me back while we're both laughing. What bullshit."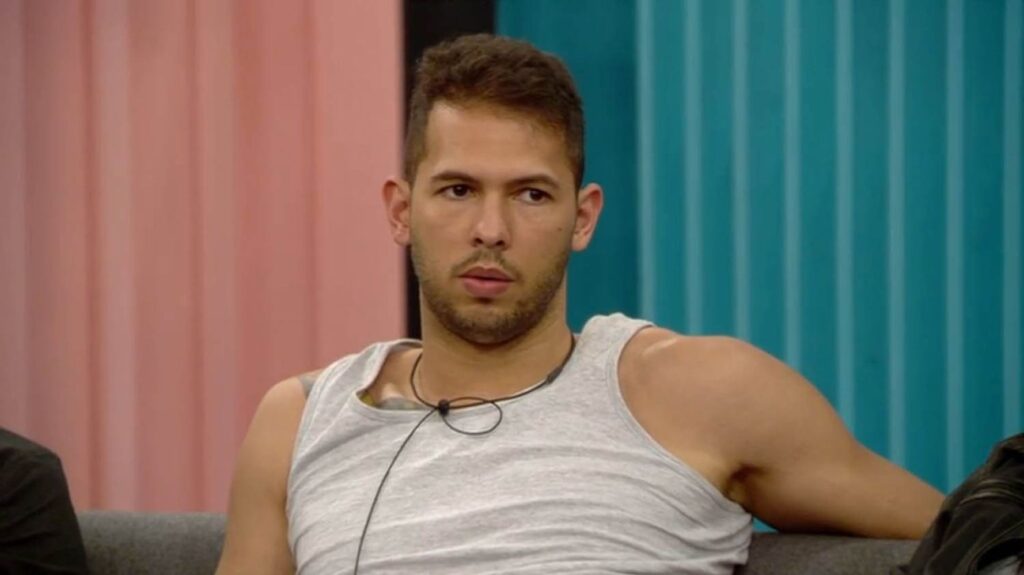 That marked the start of Tate's downward spiral. After his eviction from Big Brother, he went on to make controversial statements about rape and the Me Too movement. In now deleted tweets, he claimed that, "Sexual harassment is disgusting and inexcusable. However, a man looking at you or whistling at you or asking your name isn't harassment." He was also reported to have putting the responsibility of not being raped on women, "If you put yourself in a position to be raped, you must bare some responsibility."
2016 – 2022: Social media notoriety, Hustler's University and more controversy
While many would have stepped away from the limelight after all the controversy that surrounded them, Andrew Tate basked in all the attention and used it to his benefit. 
He began his venture called Hustler's University which was marketed as an "exclusive community" where users could learn how to make money in online fields such as copywriting, crypto investing and e-commerce. It was designed to appeal especially to young men who wanted to be their own boss and "build a large income at speed."
In the meantime, videos of Tate began to circulate online in which he began to make sexist remarks about women. From claiming he would physically assault a woman for cheating on him, "It's bang out the machete, boom in her face and grip her by the neck. Shut up bitch," to calling a previous partner a "dumb hoe." He even revealed that he had been investigated for physically assaulting women, accusations which he claimed were untrue.
– Andrew Tate Explaining Why He Said Women Should Take Some Responsibility For Being Raped – pic.twitter.com/P8v0JbpfQN

— GIDI (@Gidi_Traffic) September 17, 2022
As he drew in more criticism, Tate claimed that his videos were taken out of context and were purposely made out to make him look bad. Later, it came to light that Tate encouraged his followers to spread such videos to increase his engagement.
Thread: Following a @hopenothate campaign, the misogynist Andrew Tate has been deplatformed by all major social media platforms. He's finally responded with a video in which he tries to totally rewrite his own history. It's long so we've watched it so you don't have to (1) pic.twitter.com/oYeb4mLu5d

— Joe Mulhall (@JoeMulhall_) August 24, 2022
2022: Conversion to Islam, feud with Greta Thunberg and first arrest
Andrew Tate managed to shock fans and naysayers alike, when in 2022, he announced that he had converted to Islam. Despite being banned from most social media platforms, he had one account on Getty in which he posted, "This is why I'm Muslim. Any Christian who believes in good and understands the true battle against evil must convert. So be patient, indeed the promise of Allah is TRUTH Quran 30:60."
Andrew Tate has now confirmed himself that he is now a Muslim pic.twitter.com/7FjRT2oOzp

— Waasim (@waasim_) October 24, 2022
A video of Tate praying in a mosque also made rounds on social media.
My brother – MashAllah pic.twitter.com/TF5trRYR07

— Tam Khan (@Tam_Khan) October 24, 2022
But soon after, Andrew Tate got into a social media feud with activist Greta Thunberg which led to his first arrest. He was mocking the climate change activist by boasting about his carbon emissions from his 33 cars.
Hello @GretaThunberg

I have 33 cars.

My Bugatti has a w16 8.0L quad turbo.

My TWO Ferrari 812 competizione have 6.5L v12s.

This is just the start.

Please provide your email address so I can send a complete list of my car collection and their respective enormous emissions. pic.twitter.com/ehhOBDQyYU

— Andrew Tate (@Cobratate) December 27, 2022
yes, please do enlighten me. email me at [email protected] https://t.co/V8geeVvEvg

— Greta Thunberg (@GretaThunberg) December 28, 2022
Andrew Tate decided to hit back at Thunberg with a video and featured in the video was a pizza box which gave away his location to the Romanian authorities who had issued warrants for his arrest.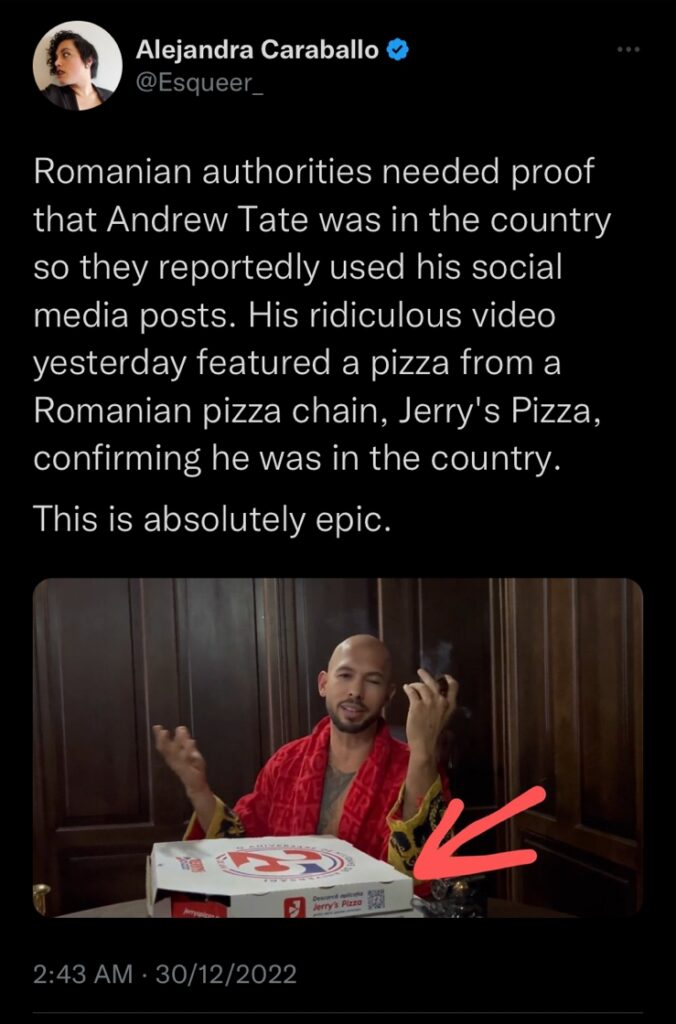 2022-2023: Arrest and release
In December, Andrew Tate and his brother Tristan found themselves under arrest on suspicion of human trafficking, rape and forming a criminal group. As per Romanian reporting, investigators identified six alleged victims who had been sexually exploited by the group, which lured the women by expressing interest in a romantic relationship before using physical violence, intimidation and surveillance to force them into producing pornographic material.
By March, Tate was released from prison but was under house arrest as the investigation against him still continued.
2023: Andrew Tate vs BBC
While Andrew Tate was under house arrest, he was interviewed by BBC reporter Lucy Williamson. The interview was intense to say the least, with Williamson not holding back with her line of questioning and Tate flat out denying, any and all accusations. Many who watched the interview accused the host of being impartial and hostile from the get go and that Tate answered whatever she threw at him.
Not a fan of Andrew Tate to date. I've always shot him down as I believe women should be respected, but I've just watched an unedited BBC interview in full and he came across very well opposed to the BBC's Lucy Williamson. He set right a few things that maybe I'd judged him…

— Duncan Oldham (@DuncanOldham) June 20, 2023
Andrew Tate claimed that when the BBC approached him, he refused initially. Then they sent him a list of questions that would talk about his mental health, his time in prison and about the Romanian justice system. But, they never asked him those questions.
🚨 Andrew Tate EXPOSES the BBC in the recent @patrickbetdavid x @Cobratate Podcast.

Watch him reveal the LIES they told him. pic.twitter.com/6nTYN8B9B0

— Andrew Tate Updates (@Morpheusresist) June 12, 2023
Present time 2023: Second arrest
Andrew Tate and his brother, along with two associates, have been formally charged in Romania with rape, human trafficking and forming an organized crime group to sexually exploit women. The statement of arrest named seven alleged victims who were recruited by the Tate brothers through false promises of love and marriage.
The victims claim that they were taken to Romania where they were intimidated, were under constant surveillance and control and forced into debt. They were also forced to take part in pornography which was later shared on social media. As per the statement, one defendant is accused of raping a woman twice in March 2022.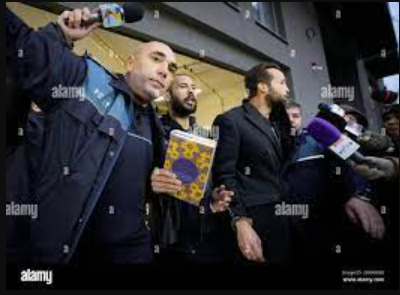 A Romanian judge has 60 days to inspect the case files before it can be sent to trial and if it does go to trial, it can be several years before the proceedings begin. But as per the Tate brothers' team, "While this news is undoubtedly predictable, we embrace the opportunity it presents to demonstrate their innocence and vindicate their reputation."
*This is a developing story*