KARACHI: It's a new year and it is already being dominated by Asians. The men and women of Asian descent have made a place for themselves in one of the most difficult spheres that is foreign law and politics. From a US Superior Court Judge from Syria to a Pakistani from Mian Channu becoming a Minister in Scotland, here are eight South Asians currently leading foreign law and politics.
1. Humza Yousaf
The 37-year-old politician is the first person of color and the first Muslim to head Scotland's devolved government. His father was a Pakistani immigrant from Mian Channu in Punjab and the family moved to Scotland in the 1960s.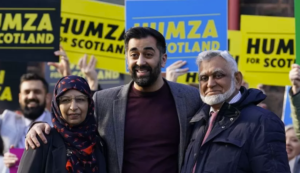 Yousaf has often spoken of the racist abuse he received growing up and vows to make things better for immigrants.
.@HumzaYousaf just gave his swearing in oath in Urdu. Look how great it sounds: pic.twitter.com/mvPqRucslx

— Siraj Datoo (@dats) May 12, 2016
2. Nadia Kahf
Nadia Kahf immigrated from Syria to the United States when she was 2 years old. Since then, she has proved nothing is impossible for Muslim women. So much so, she has become the first Superior Court judge in the US who wears a hijab.
American attorney Nadia Kahf, appointed to the Supreme Court of the state of New Jersey, became the first hijab-wearing judge on the bench.

She took the oath of office with her hand on the Quran pic.twitter.com/LyNoYwjga8

— TRT World (@trtworld) March 23, 2023
She was sworn into office by placing her hand on a copy of the Quran that was gifted to her by her grandmother and spoke of how she wishes to set an example for practicing Muslims in the country, "I am proud to represent the Muslim and Arab communities in New Jersey in the US. I want the younger generation to see that they can practice their religion without fear, that they can be who they are. Diversity is our strength, it is not our weakness."
3. Manmeet Colon 
A Sikh woman officer of Indian descent has been appointed as the Assistant Chief of Police in Connecticut, USA. She made history by becoming the first-ever person of Asian origin to hold this position in the department. The Mumbai native is the second-ever female assistant chief of color and its first Indian assistant chief in the department.
Congrats to our new Assistant Chief, Manmeet Colon!

A trailblazer, AC Colon is the 2nd woman of color & the 1st of Indian decent to serve in the position in the history of the NHPD – and I'm confident she will continue to serve our city w/honor & distinction in this new role. pic.twitter.com/CEQqx8t5al

— Mayor Justin Elicker (@MayorElicker) March 24, 2023
4. Arun Subramanian
An Indian American became the first person from his community and the first South Asian Judge to serve on the United States District Court for the Southern District of New York.
5. Rachna Singh
The 49-year-old native of Punjab made history when she became the first South Asian woman to be appointed as the Education and Childcare Minister of British Columbia province in Canada. She studied at Govt School, Sector 35, Chandigarh and did her post-graduation in Psychology from Punjab University before moving to Canada in 2001.
Today and everyday, we must stand against racism and bigotry. #InternationalDayfortheEliminationofRacialDiscrimination https://t.co/uMicKr6ElG

— Rachna Singh (@RachnaSinghNDP) March 21, 2023
6. Rishi Sunak
Born in Southampton to parents of Indian descent who migrated to Britain from East Africa in the 1960s, Sunak's rise as an Asian in politics was quick. From joining the conservative party in 2010 to leading the government in 2022, Sunak became the Britain's youngest and first prime minister of color in more than 200 years. 
Rishi Sunak is just hours away from being sworn in as Britain's Prime Minister. @Brett_McLeod #9News pic.twitter.com/VPLaDaf0pe

— 9News Australia (@9NewsAUS) October 25, 2022
7. Sadiq Khan
He was born to parents who migrated from India to Pakistan and then to London in the 1960s. In 2016, he became London's first Muslim mayor and first ethnic minority mayor. Khan had admitted to having suffered from racial abuse growing up and promises to use his experiences to make things better for others.
Tonight we welcome the beginning of the holy month of Ramadan ☪️

I want to thank London's Muslims, not only for your enormous contribution to our city, but for showcasing London's caring and compassionate values.

From my family to yours: #RamadanMubarakpic.twitter.com/xhq4t6uycz

— Sadiq Khan (@SadiqKhan) March 22, 2023
8. Kamala Harris
The first woman, first Black person, and first person of South Asian descent to become the Vice President of the United States. Her mother is Tamil Indian while her father is Jamaican American. She is the second person of color to hold the post and the third person with acknowledged non-European ancestry to reach one of the highest offices in the executive branch.
Kamala Harris has made history as the first woman & first woman of color to serve as the Vice President of the United States 💙🇺🇸#KamalaHarris pic.twitter.com/CecFrsUPRg

— Miti (@Miti_Blue) March 19, 2023
These Asian men and women have broken the glass ceiling by making a place for themselves in foreign law and politics and we could not be prouder.