KARACHI: 2022 has been quite the year for Pakistani musicians. From Ali Sethi being named amongst Time100 Next's list of rising stars to Arooj Aftab winning a Grammy and getting nominated two years in a row, our singers have made us proud time and again. However, the year also paved the way for younger, newer artists who surprised us in the best way possible. On the top of the list is the 'Pasoori' star Shae Gill who immediately won the world over with her vocals. Now, Shae Gill has collaborated with yet another fresh duo, Hassan & Roshaan for their new song, 'Sukoon'.
View this post on Instagram
Sung by Hassan Sheikh and Shae Gill, the new song was first released in October. However, what has made it gain more traction is the music video which dropped earlier this month. A Saad Yratta film, the video for 'Sukoon' incapsulates everything that the song is about. The director is said to have felt "a sense of peace coupled with melancholy" when he first heard the song. "Like a goldfish in a fishbowl, zindagi haseen bhi hay, Tanha Bhi hay, a goldfish in a bowl, perhaps the prettiest, loneliest thing one could visualize."
View this post on Instagram
Altish Yousaf beautifully embodies the freedom yet loneliness that comes with being alone in the deep blue sea. Adorning an orange attire, Yousaf looks nothing short of stunning as she swims across the river, resembling a goldfish or even better, a mermaid who has nothing but water to keep her afloat.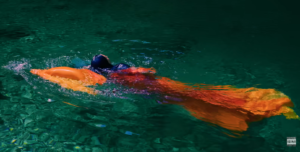 The way Yousaf looks into the camera pierces right through the viewer's soul and envelopes them in a feeling that is far too familiar, of being lost at sea, but managing to stay afloat and making the moment seem magical.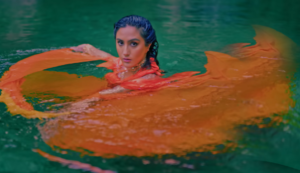 In strike contrast to the goldfish are the humans. Dressed in blue to stand out against the orange, these three are on a boat. On surface level, they have each other's company, yet a closer look reveals just how lonely each of them is as well. Though they have the option to steer away, they seem stuck in one spot. Ironically, the goldfish seems to have more freedom than them, as she swims the distance.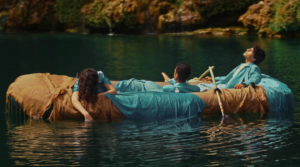 Shae Gill and Hassan Sheikh's vocals will linger in your ears for long after the song has finished playing while the art direction for 'Sukoon' will make you appreciate the magic that has been created using minimalism.