KARACHI: There is no denying that for around a year, since the movie was announced, fans have anxiously been waiting to see Sajal Aly make her Hollywood debut in What's Love Got To Do With It?. Andd it turns out that it is not just the fans who were excited to see Sajal Aly on the red carpet of the Toronto International Film Festival. Several of her peers took to social media to praise the star for achieving another milestone and representing Pakistan on an international platform.
View this post on Instagram
Sarwat Gilani and Anoushey Ashraf
Sajal Aly opted to take a risk with her wardrobe on the red carpet of the What's Love Got To Do With It? premiere. In an East meets West fusion, she wore a crop top over gharara pants and tied in the outfit with a well fitted black blazer and maroon bangles. She also chose to go with a bold red lip and smokey eye makeup. While many lauded her for her fashion choice, some on lookers were not happy with her look and took to social media to make their opinions known. However, Sawart Gilani and Anoushey Ashraf were quick to step in and defend Aly. Gilani told the critics off and told them, "Don't be petty and try to be the fashion police." She went on to say, "Become a nation and learn to celebrate rather than whining all the time!" Gilani also took the opportunity to praise Sajal Aly and said, "Take a moment and take pride in the fact that one of the finest female actors from Pakistan is representing her country on a global platform." Anoushey Ashraf agreed with Gilani and added, "More power to Sajal Aly for being a hero! The higher your rise the more critical everyone gets."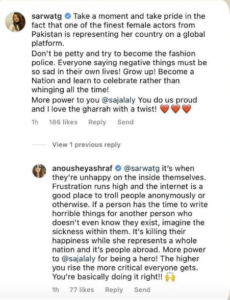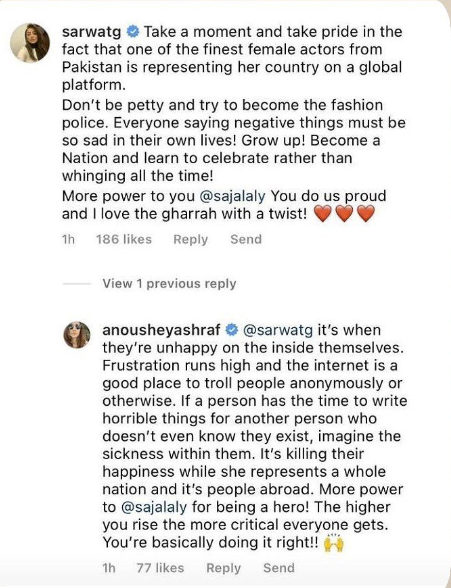 Mahira Khan
Mahira Khan shared a picture of Sajal Aly on the red carpet premiere and wrote, "That's our girl!! So proud of you!" She added a few celebration emojis along with the Pakistan flag in her appreciation.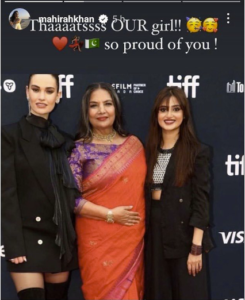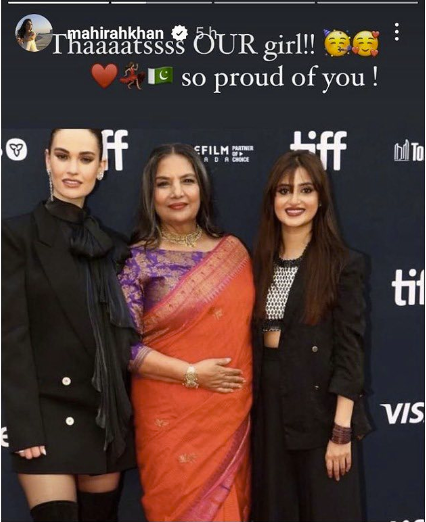 Sanam Saeed
Sanam Saeed also shared a picture of Aly with her co-stars at the premiere of What's Love Got To Do With It? and wrote, "There she goes! Congratulations on your new film!"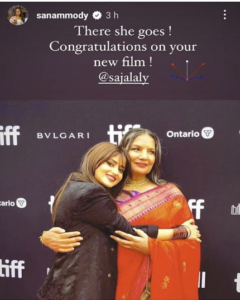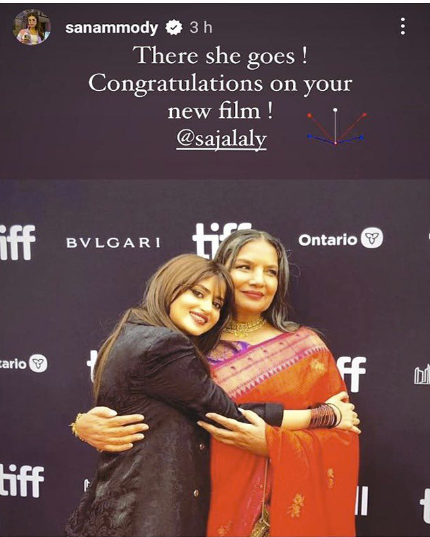 Maya Ali
Actor cum entrepreneur Maya Ali also took to social media to celebrate Sajal Aly and her milestone and wrote, "So so proud of you my heart for achieving another milestone."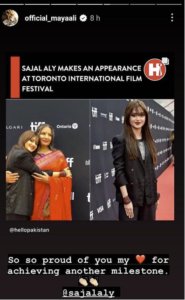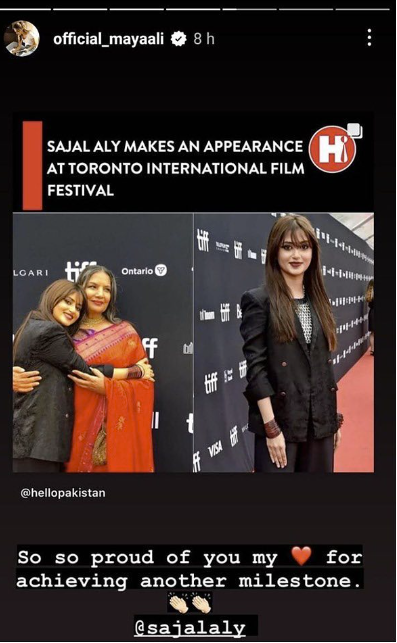 Sonya Hussyn
Sonya Hussyn couldn't contain her excitement and wrote, "Omg omg that's my girllll MA. Sending tonsss of love Sajjo."

Armeena Khan
Armeena Khan was all praises for Sajal Aly which extended beyond just her Hollywood debut, "While she continues to make us proud on the international front with her work, I've always admired her for her ikhlaaq and manners." She went on to say that Aly, "Deserves the world."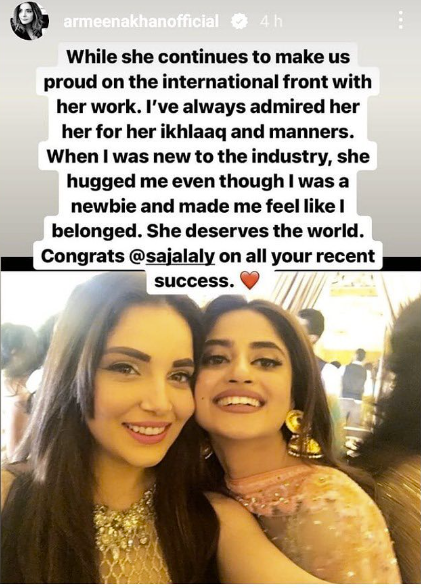 Humayun Saeed
The London Nahi Jaunga star also took to social media to congratulate Sajal Aly on her new movie and wrote, "Making us proud! Love and best wishes."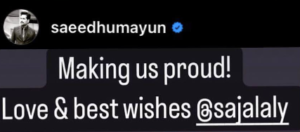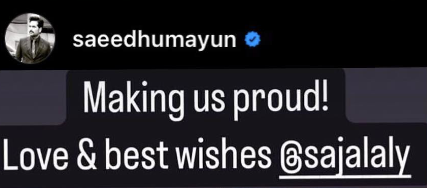 What's Love Got To Do With It? is expected to hit cinemas early next year.