KARACHI: If there is one celebrity Bollywood would be more than happy to keep at bay, it would probably be Kangana Ranaut. Known for having opinions which can wreak havoc, Ranaut has time and again used her platform to lash out on others. While the Queen actor had been quiet for a while, she is back to pick yet another fight. This time, Kangana Ranaut is ready to take Filmfare to the court over an award nomination. Taking to her Instagram stories, Ranaut expressed her disapproval of the award show and disbelief at the fact that they keep nominating and inviting her to the ceremony.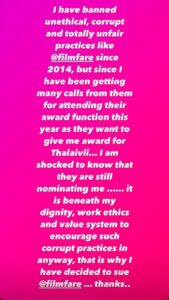 The actor who had been nominated for her 2021 movie Thalaivi award shows like Filmfare 'unethical, corrupt and totally unfair'. She also revealed that she had boycotted shows like these since 2014 but was shocked to know that they were still nominating her and inviting her despite their 'dignity, work ethics and value system (that) encourage corrupt practices' being beneath her. Hence, Kangana Ranaut decided to sue Filmfare for their behaviour. 
Recalling an incident from 2013, Ranaut penned down an instance when Filmfare had "clearly told me that if I don't attend their award show or dance on the stage, I won't get awards and I made it clear to them back in 2013 that I will never attend anything which is morally deprived and unethical." Ranaut also went on to wonder what the purpose of her nomination was since she was not going to attend the ceremony. Moreover, she was not happy about being nominated against 'mediocre' artists.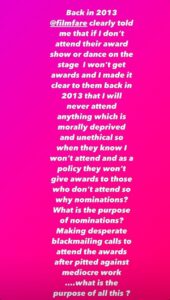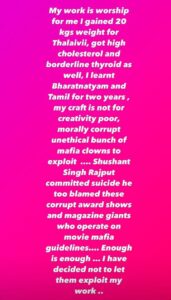 Also penning down the work that went into her role for Thalaivi that included gaining 20 kgs, getting high cholesterol and borderline thyroid along with learning Tamil and an Indian dance form, Ranaut voiced that her work is not for 'an unethical bunch of mafia clowns to exploit'.
 

 

View this post on Instagram

 
Even though Filmfare has now removed Kangana Ranaut from the list of nominees, the actor is determined to take them to court.