KARACHI: Just a few months ago, we were all fawning over the adorable wedding pictures of Alia Bhatt and Ranbir Kapoor. And now the couple has added more reason to be excited; they are on their way to becoming parents. Alia Bhatt took to Instagram to thank her fans for their love and also took the opportunity to quash rumors surrounding her pregnancy.
 

 

View this post on Instagram

 
The expectant mother took to her stories to thank everyone who wished the couple well on their journey and wrote, "Overwhelmed with all the love!" She also talked about how, "It truly feels so special to celebrate such a big moment in our lives with all your love and blessings!"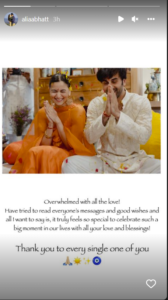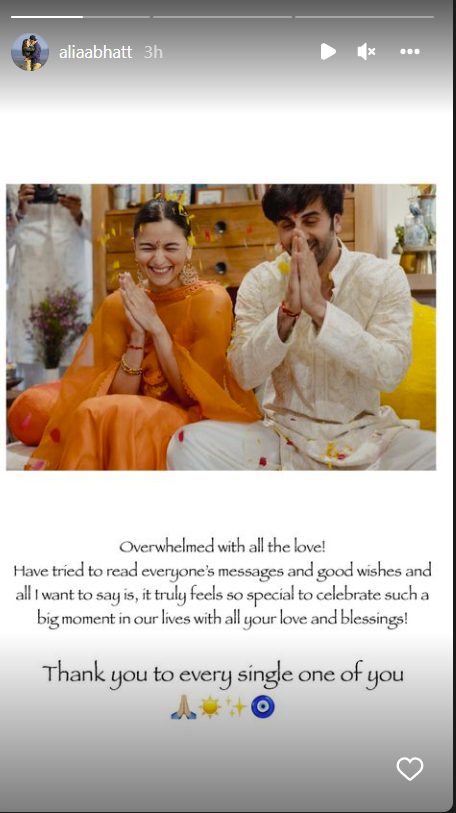 However, in the next story, Alia Bhatt also addressed rumors being spread about her pregnancy. She shared a screenshot of a caption by Pink Villa USA which speculated, "Ranbir might go to the UK to bring his wife home." The page also quoted India Today which claimed, "Alia will be taking a rest after she returns from her shoot. The report suggests that the actor planned her pregnancy in a way that doesn't affect any of her commitments."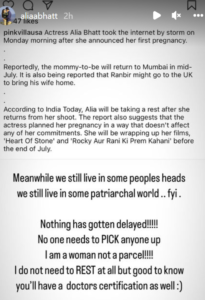 Bhatt was not amused with the claims and said, "Meanwhile we still live in some peoples heads we will still live in some patriarchal world." She clarified, "Nothing has gotten delayed!!! No one needs to PICK anyone up. I am a woman not a parcel!!!"
Alia Bhatt also clarified that her pregnancy did not require her to take any extra precautions either, "I do not need to REST at all but good to know you'll have a doctors certification as well." She ended the note saying, "This is 2022. Can we pls get out of this archaic way of thinking! Now if you would excuse me…my shot is ready."
The actor is set to make her Hollywood debut and will also serve as co producer alongside Shah Rukh Khan.