KARACHI: One marketing fail can cause quite a lot of backlash and that is exactly what happened over the weekend. Controversial restaurant Swing managed to offend several people with their marketing gimmick and then continued to offend with their lack of remorse when called out. Here is all that went down over the weekend.
There is one scene is Alia Bhatt's movie Gangubai Kathiawadi that managed to bring the audience to tears and that is when Bhatt's character is forced to accept her fate as a prostitute and stands outside the brothel inviting men to herself. The scene was difficult enough to watch but the restaurant Swing decided to use the scene as a marketing gimmick to promote their Men's Monday discount. As the video made rounds on social media, people were appalled.
View this post on Instagram
Most people agreed that the video was in bad taste. Some labelled the video as "sick marketing," while others wrote, "Everyone remotely linked to the making of this advertisement should be ashamed of themselves and their trash mentality." Social media influencers also tried to educate the team behind the video about why there was such outrage. Saman Hayat Soomro explained, "I think you don't get the sentiments of the movie and specifically this scene. We all were crying when this scene came through because this was the first time Alia was convinced to stand outside and attract men to enter the brothel (after her human trafficking experience). Now please tell me how do you justify your advertisement after using a scene like this? Absolute gross."
Rubab Furqan also tried to explain why the video wasn't funny, "This scene by no means seem to be a funny scene or a non serious scene. It was portraying A VERY SERIOUS SOCIAL ISSUE and someone's helplessness to not be able to get out of the trap she was entering and you guys have used it to attract 'Rajaas'. It's actually not funny or to be taken light heartedly, it's beyond unethical and insensitive. Beyond disgusting guys."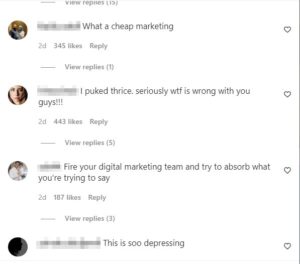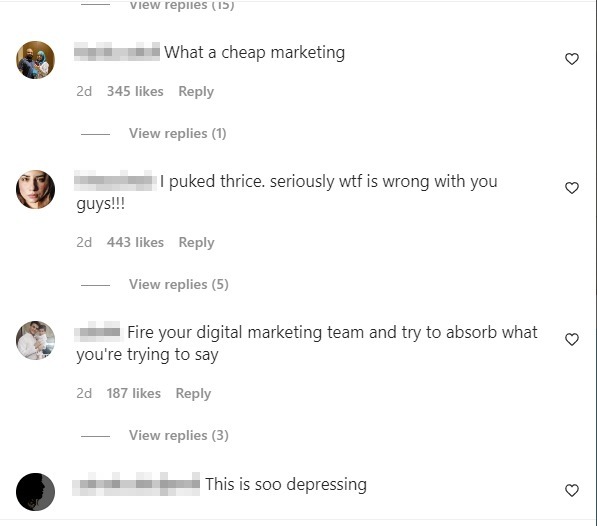 One would expect that after all the ire drawn, Swing would issue a public apology and remove the video. But they did the exact opposite. They justified their video as being "Just a concept. We didn't mean to hurt the sentiments of anyone. The movie and this post is based on a concept." Along with the caption, they shared a picture with stills from the same scene with statements questioning why people took the video to heart and how is it okay for a movie to use the scene and not for the restaurant to use it.
View this post on Instagram
Quite naturally, people were not impressed. Influencer Waliya Najib wrote, "Could've just apologized but nope. Dheet." Other comments mirrored the same sentiments calling out the team's lack of remorse.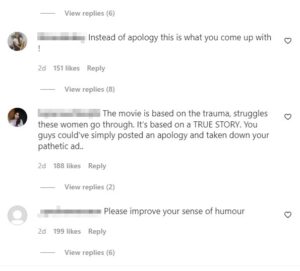 However, despite the continuous outrage, Swing restaurant continued to rile people up with insensitive posts, all related to the same movie. They kept implying that they were in the right and would come out stronger.
View this post on Instagram
However, many people have made a decision to boycott the restaurant now and are encouraging others to do so too!