KARACHI: It's been twenty years since Karan Johar delivered his masterpiece Kabhi Kushi Kabhie Gham and over the years, our love for the movie has only increased. There's not a wedding event that goes by where 'Bole Churiyan' isn't blasted off the speakers and there's not a daydream that's gone by where we haven't imagined our jewelry getting stuck in our crushes' clothes. But most importantly, there's not a single moment in our lives that passes us by when we haven't been able to quote the iconic Kabhi Kushi Kabhie Gham dialogues. Here are our favorite examples:
View this post on Instagram
1. "Gamlaa! Nai gamla nahi vase!"
Have you ever been in that heart stopping moment when you break one of your mom's expensive dishes? But between the sheer panic about the amount of trouble you're going to get into and the dread you feel about the mess you'll have to pick up, you can't help but repeat Anjali's iconic "Gamla nai, vase!" dialogue in your mind and you can help but imagine Kajol's face as she delivered the dialogue and imagine that's what you looked like too!
2. "Oh hello Mrs. Sprightley!"
Having guests over is a pain and having guests over and having to serve them is a nightmare. So what better coping mechanism is there than to quote Anjali from the movie? After all, she is our spirit animal. As a scorned guest, there's no way you didn't find yourself having this conversation with yourself"
 "Oh hello Mrs Sprightley!"
"Oh hello Sugar!"
"Would you like some tea?"
"Yes! With a drop of lemon in it."
"Oh! And something to go with it?"
"Some cookies please."
"Cookiesssss, Lovelyyyyyy!"
3. "Keh diya na, bas keh diya"
Younger sibling have the tendency to be super annoying who just don't know how to take no for an answer. After years of hearing no from your parents, as an adult you're finally in that position to be able to say no to someone, for a change. And are you really a Kabhi Khushi Kabhie Gham fan if you don't seize the opportunity to say no in Raichand style complete with the dramatics, "Keh diya na, bas keh diya!"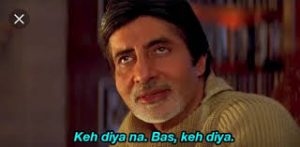 4. "Poo bani Parvati."
Let's be honest. We all have that one friend who becomes religious when the moment calls for it. Whether it's during exam season or when they really want something that they most likely won't get. That doesn't stop them adopting a more religiously inclined lifestyle, for the moment at least. And you can't help but take one look at them and laugh about how, "Poo bani parvati."
5. "Maafi maangnay say koi chota bada nahi hota."
Have you ever thought that you were absolutely without a doubt right about something, fought with just about everyone to prove a point only to learn you're actually wrong. And then you realize you need to apologize to everyone? But why should the apology be a hit to your ego when all you have to say is, "Maafi maangay say koi chota bada nahi hota aur jo maaf kar deta hai uska dil bahut bara hota hai." Will it work? Probably not. Is it worth a try? Yes.
What is your favroite Kabhie Kushi Kabhie Gham dialogue?