KARACHI: The past Thursday was undoubtedly one of the most heartbreaking days we've had to live through in a while. The nail biting T20 semi final against Australia came down to the last over and one catch drop and three sixes sealed the deal and Pakistan was out of the tournament. Perhaps no one felt the heartbreak as much as bowler Hassan Ali who dropped the catch that could have been a game changer. However, despite the disappointment fans felt, they weren't angry, they were proud. But that didn't sit well with the Indian media. When India lost, they were brutal with their team. From abusing Mohammad Shami to threatening to rape Virat Kohli's ten month old daughter, they spared no one and expected us to follow suit when we lost. And when we didn't, they decided to incite hate against Hassan Ali and pin it on Pakistanis.
View this post on Instagram
For a minute, as we watched the ball drop from Hassan Ali's hands, there was a surge of anger. The catch could have won us a spot in the finals. But the anger melted away as we saw Shoaib Malik comfort a clearly distraught Ali. The moment between the teammates spoke volumes and we knew that no one could have felt worse than Hassan Ali did at that point. And we realized that we weren't angry. How could we be? In the past few weeks, our cricket team did what countless politicians couldn't do for over seventy years, they united us. The team brought us so much joy and so much hope and so we decided to celebrate them.
View this post on Instagram
Captain Babar Azam's speech and his unwavering support for his team only strengthened the love we had for the men in green. Rather than dwelling on the mistakes we all celebrated all the highs of the tournament. There was no one person to blame. We had our good days on the field, and then we had one bad day. But we would learn and come back stronger. Anyone who tried to troll Hassan Ali was immediately shut down by well wishers. There was nothing but love for the team. Which was rare. We're used to our team under performing. Winning would usually be a surprise, losing would be a norm. Anger would be the primary emotion. But not for this team.
But here's where things get messed up and for no apparent reason. News began to spread that Pakistanis were spewing hate against Hassan Ali with claims that the hate centered around his religious sect and his wife's nationality. The news was coming from various verified Twitter accounts and they were all saying the same thing.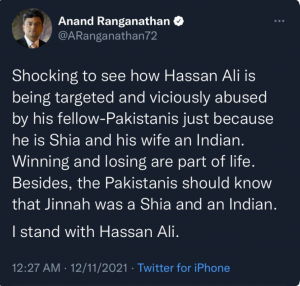 We are very pained to know that #Pakistan Cricketer #HasanAli(@RealHa55an) is being targeted for being a #Shia Muslim & also because he married an #Indian Samiya Arzoo. Pakistanis' intolerance & hatred is despicable & I hope @ImranKhanPTI gives enough security. #INDwithHasanAli pic.twitter.com/vyTtNMsuNe

— SG Suryah (@SuryahSG) November 11, 2021
To credit the supposed hate Hassan Ali was getting, there were tweets sent out by his wife. For those who don't know, Samiya Arzoo is an Indian airhostess who married the bowler and the two have an adorable daughter. She's very active on Instagram and so it was strange that she chose to use Twitter instead of Instagram to reach out to Prime Minister Imran Khan and The PCB for support in response to attacks against her family. A Twitter account which has since been deleted.

And of course, the only people coming to her defense were our neighbors from across the border.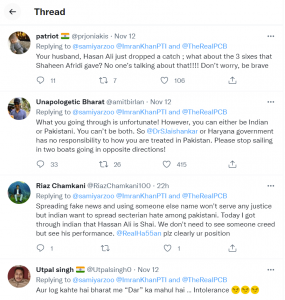 Things just didn't seem right. The abuse and hate were nowhere to be found on social media so where was this news generating from? Sure we had our fair share of trolls but the support very clearly outweighed the hate. For most of the part people didn't even know Hassan Ali was Shia. Mainly because he isn't!
First of all, Hassan Ali is not Shia. Secondly, show me a single tweet where any Pakistani has targeted Hassan or his wife. We aren't like you guys that targets women. You've targeted a 10 months old child. Hassan Ali is a champion, he fought for us like he did in 2017. pic.twitter.com/iCYA1lI2QT

— Ihtisham Ul Haq (@iihtishamm) November 12, 2021
To add to the fishiness, it turns out that the Twitter account wasn't even Hassan Ali's wife's! It was a fake account and the news came directly from the real Samiya Arzoo on Instagram who even went on to say that her family had gotten nothing but support. It was hard to believe that Pakistanis would hate Samiya Arzoo for being Indian when we have nothing but love for Bhabhi Sania Mirza!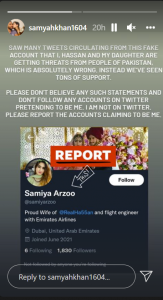 None of these claims sounded like something Pakistanis would do. But you know who it did sound like? Indians. Not one for being a conspiracy theorist but these are the same "die hard fans" who attacked Mohammad Shami for being a Muslim and went on to threaten to rape Kohli's daughter because he supported his teammate. The news originated from an Indian account, the only people responding to the news were Indians and the only news sources that were reporting the apparent hate were Indians.


We're not sure what there was to gain by the propaganda that was started but we do know what it takes a lot more than a few trolls, who couldn't stomach their monumental loss, for us to hate our cricket heroes. Hassan Ali might not have been on the top of his game but we haven't forgotten how he marched us to victory time and again like when he got the Golden Ball for his outstanding performance in the 2017 Champions Trophy. Win or lose, our heroes remain our heroes and our faith in them is unwavering. Nice try, trolls.
Hassan Ali: But I'm not Shia.

Indians: pic.twitter.com/GatdmW7I2n

— F 🦋 (@fatimabashir211) November 12, 2021