KARACHI: The International Pakistan Prestige Awards (IPPA) 2021 are set to take place in Istanbul, Turkey, on October 31. While a few celebrities and media platforms have been endorsing the event prior to the ceremony, Haroon Shahid seems unaware of what the event is. The actor and singer took to social media to question the authenticity of the awards. According to his posts, the artist has been nominated under two categories at IPPA Awards 2021 but was not informed by the management.
"So apparently I've been nominated by these IPPA award people. In fact I've got two nominations. One as an actor and the other being my drama Do Bol," Haroon Shahid shared on Facebook. "Not that it made any difference to my life or my career but how come these award managements share our pictures and profiles for their own cause without even informing the nominees. Who and what is IPPA? What's the authenticity?" he questioned while believing certain people from the entertainment industry promote these 'random award shows' because they either get paid for it or want to earn a foreign trip.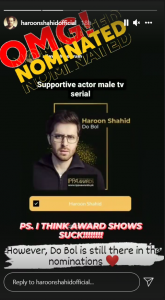 5 questions on our minds after LSA 2021
Shahid reiterated the same on his Instagram as well, where he took to his stories to ask followers if award shows actually matter or not.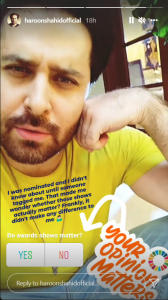 "I was nominated and I didn't know about (it) until someone tagged me. That made me wonder whether these shows actually matter? Frankly, it didn't make any difference to me," he stated.
View this post on Instagram