KARACHI: The Institute of Business Administration, or IBA as everyone refers to the university as, proudly boasts being one of the top universities in Pakistan. However, following recent events, there seems to be another title that can be attached to the university's name: a place that harbors harassers. Because that is exactly the stance that IBA chose when they made the arbitrary decision to expel Mohammad Gibrail. His fault? Raising his voice against an incident that took place in IBA that amounted to workplace harassment. Here's what happened.
When Mohammad Gibrail, from Lakki Marwat, scored d 90%+ marks in his matric and intermediate exams and scored a scholarship to one of the top universities in the country, he never expected that he would be punished by that same university for speaking up against a wrong that was being committed on campus. On August 25th, Gibrail who was two months away from graduating witnessed what he called, "a very gross and crappy incident in front of my eyes and it was an eye-opening ominous incident that actually told and reflected a lot of scum that our society contains." He recalled how he visited the university's Finance Department and came across a female employee being yelled at by a male colleague and was threatened, "Mein Raat tak tumhe bithaonga. These were the exact words that I heard which told a lot to me about that shitty environment that would prevail over there if such is the audacity of a person who can spew his crap around, not caring about the identity of a female employee in front of students, God knows what the real hell would happen behind that."
Gibrail was shocked with what he witnessed and even encouraged the female employee to report the incident as a case of workplace harassment. Gibrail felt a sense of responsibility to call out cases of workplace harassment and he explained why, "As a citizen of this country, this is my duty in letter and spirit to report this crap of society whenever I will observe no matter who the hell he is." He was so enraged with what he witnessed that he planned to reach out to "my teachers who are lawyers and I will once this is reported to the Harassments Committee of IBA." Soon enough Gibrail's post garnered the attention of the student body and what ensued was a series of protests on the IBA campus against harassment.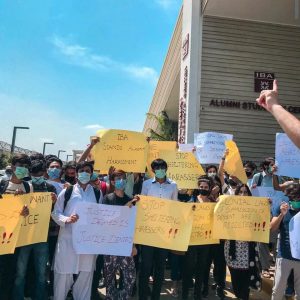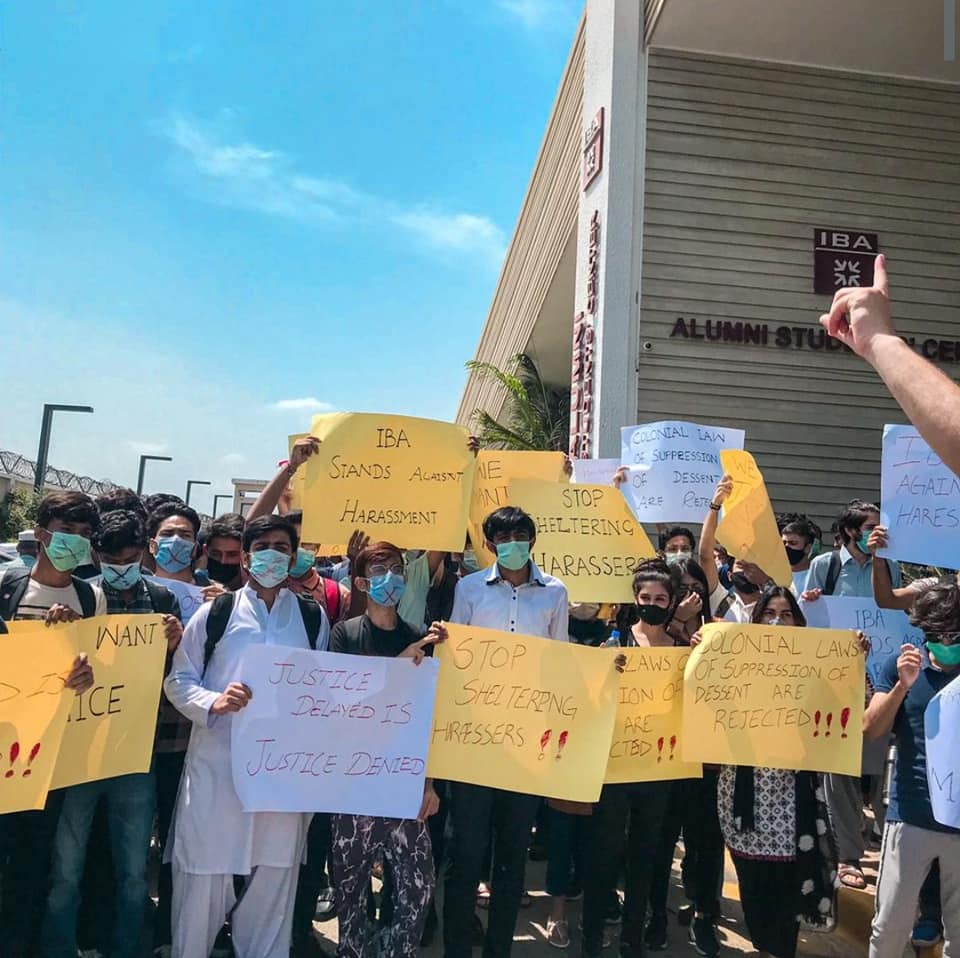 It seemed as though Gibrail made sure to follow all the necessary steps to reach the relevant authorities in the university but on their part, it seemed as though the university simply didn't care or were purposely turning a blind eye to the incident. In an update to his previous post, Gibrail wrote, "I have sent an email regarding all this crap to the anti-harassment committee of IBA but I still have not received any feedback and what I perceive from the hierarchy of power in IBA that they may suppress this issue." But Gibrail was not deterred and he went on to explain what he planned to do, "If IBA does not take any strict action against that culprit and his accomplices, we will approach Sindh Government and Government of Pakistan. We won't settle till the goons in our academic institution get their bags pack."
However, in a shocking turn of events, IBA handed Gibrail his expulsion letter on a golden platter. Activist Jibran Nasir aptly explained why the university chose to do so, " IBA appears more concerned about its public image as opposed to addressing the incident of harassment." Gibrail wasn't allowed into the hostels and wasn't allowed to collect his stuff from his room. Moreover, while Gibrail was subjected to a disciplinary inquiry, the female victim was allegedly told "Gibrail ko toh hum Dekh lain gey, ab aur eye witness Kahan say Lao gi (we'll see about  Gibrail, where will you bring more eyewitnesses from?)"
On their part, the university sent out a lengthy post justifying their decision to expel Gibrail and wrote, "The IBA is an Institute that is known for its disciplinary rules, policies and the IBA Code of Conduct, which applies to all members of the faculty, staff, and students." But here's all that was wrong with what they tried to justify:
They accused Gibrail of not going through the correct channels in raising awareness about the incident "Despite the counseling provided to him, the student refused to adhere to the right channels that are expected to be followed by all members of the IBA faculty, students, and staff." Yet, Gibrail did email them and his emails went unanswered.
IBA was more concerned about Gibrail's post "endangering the physical and psychological safety of the employee, his coworkers, and the department" instead of worrying about the trauma the said employee caused his colleagues.
The post also accused Gibrail post of  endangering "the physical and psychological safety of other students, employees, and faculty members with the protests." Which is ironic since the  Dean and Executive Director of IBA Akbar S. Zaidi is known to be an advocate for student unions and progressive politics.
They also questioned why Gibrail was more keen to report the incident than the actual victim was notwithstanding the fact fear of being silenced or the fear of not being believed, which is quite literally what happened in this case is one of the basic hindrances in reporting harassment in the workplace.
Watch: Horror Stories of Harassment
But people weren't buying what IBA had to say. One comment read, "And here I was hoping that one of the top business schools in Pakistan run by the educated would have enough sense to not promote the harassment culture by punishing those who bring it to light." An alumni wrote, "By doing this you are only discouraging men from helping women they witness being harassed. You are just perpetuating harassment. Feeling so ashamed to call myself an IBA alumnus today." In fact, the post lead to more incidents of workplace harassment happening in IBA being bought to light.
Despite the injustice against Gibrail, he stands undeterred. In a comment under his post, it was suggested that he should "make your peace and apologise. Do not harm your opportunity to attain education. You already have done all you could, to help!" To which he responded that he had no plans of " bowing down before toxic bureaucracy." He plans on appealing the matter before the High Courts. But there is one thing for sure, Gibrail is a beacon of hope for many. He is an example of courage and determination and also is the prime example of how men need to support women.