KARACHI: As the Met Gala 2021 took place in New York on September 13, several celebrities and public figures caught the audience's attention with their outfits. Some were successful in standing out and making a statement with their clothes while a few others became targets of numerous trolls and memes. One person who particularly received criticism for her dress and her participation in the Met Gala was Alexandria Ocasio-Cortez (AOC). The American politician and activist showed up at the Gala sporting a white gown with 'Tax the Rich' printed in red at the back.
View this post on Instagram
AOC definitely saw the criticism coming for in an Instagram post in which she announced her designer, Aurora James, 'a sustainably focused, Black woman immigrant designer,' she also explained how "BEFORE anybody starts wilding out – NYC elected officials are regularly invited to and attend the Met due to our responsibilities in overseeing our city's cultural institutions that serve the public. I was one of several in attendance." AOC also stated that her dress was 'borrowed'.
Social media, however, was still not sold on AOC's participation in the fashion event of the year and called her out.
AOC was not oblivious to the criticism she and her dress received. In a Q/A session on her Instagram stories, the politician and activist responded to a question about the same.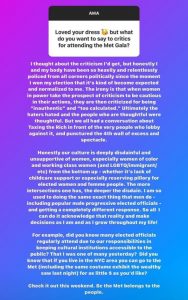 "I thought about the criticism I'd get, but honestly I and my body have been so heavily and relentlessly policed from all corners politically since the moment I won my election that it's kind of become expected and normalized to me," she began. "The irony is that when women in power take the prospect of criticism to be to be cautious in their actions, they are then criticized for being 'inauthentic' and 'too calculated.'
"Honestly our culture is deeply disdainful and unsupportive of women, especially women of color, and working class women (and LGBTQ/ immigrant/ etc) from the bottom up — whether it's lack of childcare support of especially reserving pillory for elected women and femme people," she continued. "The more intersections one has, the deeper the disdain."
AOC also reminded her followers once again that multiple elected officials are regularly invited to the Met Gala 'due to our responsibilities in keeping cultural institutions accessible to the public'. She also revealed that individuals living in the NYC area can attend the Gala for as little money as they would like.
"Because the Met belongs to the people," she concluded.