KARACHI: Over the past few days our newsfeeds are flooded with news from the Tokyo Olympics. Whether it's Talha Talib making the news for making Pakistan proud or the heartwarming news of how the two high jumpers who chose to share the Olympic gold, the biggest sporting event is the talk of the town. However, beneath all the glitz and glamor and beyond all the celebrations, there is a dark side to the Olympics. One that involves abuse, both physical and sexual and a whole lot of cover-ups.
View this post on Instagram
US gymnast Simone Biles was on track to win six gold medals until she unexpectedly pulled out of the sporting event. She took to Instagram stories to talk about how for some reason she simply could not perform her routine and that it was putting her at risk. However, she emphasized that she didn't quit and she had no regrets over her decision, "Nor do I have to explain why I put my health first. Physical health is mental health."
Badminton player Mahoor Shahzad apologizes for racist remarks
View this post on Instagram
However, one can't help but wonder whether Biles' return and abrupt departure from the Olympics were overshadowed by Larry Nassar and the sex abuse scandal that bought the USA Gymnastics tumbling down. For those of you who aren't aware of the scandal, more than 368 people had alleged that they were sexually assaulted by "gym owners, coaches and staff working for gymnastics programs across the country." At the heart of the scandal was team doctor Larry Nassar who sexually assaulted over 156 women, most of whom were minors when the abuse took place. As if that wasn't bad enough, the President of the USA Gymnastics not only knew what was going on but also worked on covering it up. Simone Biles and some of her closest friends and teammates had all been abused by Nassar. And so it's no wonder Biles' mental health took a hit the way it did and why she felt like she was carrying "the weight of the world on my shoulders at times."
But this year it seems as though very little has changed at the Tokyo Olympics. This time the US fencing team is under the spotlight. In a picture that went viral, three of the four teammates are wearing pink masks and one, Alan Hadzic, is wearing a black mask. The three were protesting the fact that Hadzic was allowed on the team despite the three sexual misconduct claims that are filed against him. Despite the fact that women from the fencing team fought to keep him off the team by urging the US Center for SafeSport, the nonprofit agency responsible for protecting athletes from abuse, all they did was create a "safety plan" designed to keep Hadzic away from women and the Olympic Village. They actively allowed a man with not one, but three sexual abuse claims, onto the team to represent the country. Though all he did was represent all that is wrong with the institution as a whole.
#TeamUSA men's epee team wore pink masks for their opening match at the Olympics as a show of support for sexual assault victims. Alen Hadzic— their teammate accused of rape and sexual assault— is on the left. Kudos to the team for taking a stand. #BelieveWomen pic.twitter.com/yRI4azelKN

— Ibtihaj Muhammad (@IbtihajMuhammad) July 30, 2021
But the abuse isn't just sexual. There is an underlying element of physical abuse where athletes are forced to push themselves to their breaking point just to win Gold. In 1996, Kerri Strug won hearts and Gold as she performed a perfect volt despite her broken ankle. You can see her pain as she struggles to stand and by the end of what was her greatest performance, she was writhing in pain.
Human Rights Watch released a report that stated that child athletes in Japan are subjected to physical, verbal and sexual abuse whilst training.  They documented Japan's history of corporal punishment in sport and how severely it impacted the young athletes who have been punched in the face, kicked, beaten with objects like bats or bamboo kendo sticks, being deprived of water, choked, whipped with whistles or racquets, and being sexually abused and harassed.
Nadia Comăneci was only 14 when she became Romania's star athlete. But if you flip through her pictures through the years you can see her once bright as day smile dim and the light from her eyes fade. The change was bought on by her "sadistic coach" Bela Karolyi who was verbally and physically abusive. His abuse was overlooked because he got the results.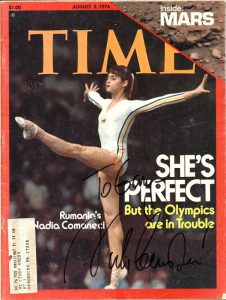 Abuse stemming from the institutions that are most celebrated is what impacts the victims the most. Mental health in sports has now become a conversation but at the cost of many athletes like Simone Biles.