KARACHI: We operate in a society that views suicide as a full stop, with a black and white interpretation of something abhorrent that needs to be cast aside and not talked about in-depth. Amidst that, theatre performance Kal Agar Mein Marjaoun compels its audiences to understand someone who comes forward with those tendencies. And it does all that by sticking to metaphors, without preaching. Written by ace writer Bee Gul, it has been directed by maestro Khalid Ahmed.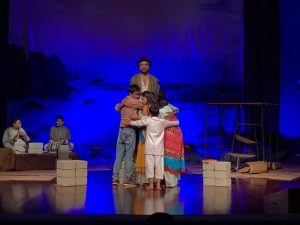 It is in fact quite interesting to note that a play so focused on one of the lead characters hellbent on ending his life, does not once give its own opinion on the issue. It just unravels the notion without supporting or going against it.
A dialogue that strikes a chord is, "mein sau feesad zinda hun, aur mein sau feesad mar jana chahta hun." (I am a hundred percent alive and I want to be a hundred percent dead) .To which the other character replies, "tumhey kesey pata tum sau feesad zinda ho?" (How do you know you're a hundred percent alive?). This brings one to ponder how a person with suicidal tendencies may have died a thousand deaths before concluding it one final time. There is a lack of conversation on the matter, which is why it has been so difficult for nearly all societies to really visualize what death may be. That and also because no one comes back to recount what happened. However, the fear yet fixation on the topic has made it a rather unusual taboo. Everyone accepts death, but no one wants to sit down and really have a discussion on it.
The play's approach to understanding death is not when a living organism gives away, but when the soul leaves a being. This causes many of us to still exist, but not really live. The sea is the metaphor of a soul world, from what I understood. It always has room for the lost ones, the discarded, and the presumed dead. Little do the ones who live on land experience that the sea is in fact teaming with life, and from their standpoint, it is hard to comprehend how that could happen. But nothing is ever lost in the sea for it finds it, and gives it a home.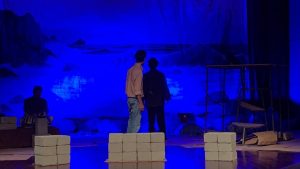 The sea is another metaphor for what Tariq Raja's character says at the start of the play. "Main pyasa hun" (I am thirsty). He says that standing in front of a volume of water that cannot be encapsulated. Such is the situation with what we expect to find in this world. It is right in front of us, however, it comes in a shape and form that disallows us from accepting it.
The colors used on stage quickly reveal what the play might be about. Low-key light with a lot of blues adds to a sense of hopelessness and desolation the play is trying to achieve. Kudos to the team behind the stage design and the lights. Names of which included, Syed Phool Badsha, Arif Mahmood, Shahid Zubair, Muhammad Ijaz, Shakil, Zaheer, Muhammad Raees, Ahmed Raees, Gul Sher, and Fraz. The key for set/stage design is to not stand out and create cognitive dissonance, but to blend in as part of the art as a whole, complementing the story. Here the design achieves just that.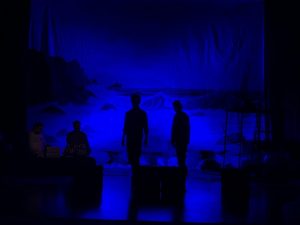 Gautam, one of the two lead characters played by Nazr-ul-Hasan, explains how he cannot die even if he tries, and how she (his love interest) cannot live even if she tries to, which keeps them from falling in love with one another regardless of how beautiful she may be. His name itself in Kal Agar Mein Marjaoun is that of the Buddha, who spent much of his life pondering over why it is that there is suffering in this world, starving himself of food and water for days until he received enlightenment. The name and the character both contribute to his persona being that of someone who is bestowed by divinity, who knows more than an ordinary person would.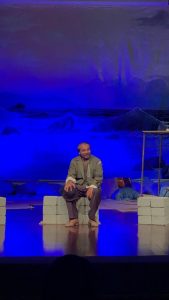 Much of the conversation that takes place between Gautam and the man planning on attempting suicide is much like a private conversation between a human and a higher power. He talks about his suffering, elaborates on things he would not elaborate on in a normal setting, answers his own questions, and is completely bare such as the man telling Gautam about staying silent on a child sexual abuse case within the house. Gautam merely becomes the vessel for God to speak through, since the play does, in many places such as him falling in love with his biology teacher, reinstates that he is a mortal. It is either that, or Gautam is a personification of all the assumed answers from God. Answers we find solace in, answers we tell ourselves to keep ourselves from walking over the edge. Answers that give us reassurance of an Almighty.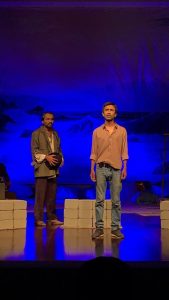 In conclusion, Kal Agar Mein Marjaoun is a tale of baggage and how we see that very baggage within our triumphs. The world may never understand our thirst for something that cannot be described. It might only be metaphors that help the other party relate.
Bee Gul has done a splendid job with the writing. The mood, the pace, the revelations are all subtle. Her writing serves as a mirror for one to see their own reflection. Lead actors Nazr-ul-Hasan and Tariq Raja steal the show. Both characters are opposites. One knows, the other is anxious for answers. One is patient, the other is not. The two actors have embodied the characters like a fine silk garment slipping across the skin. Effortless. Ifrah Khalid mesmerizes with her dance skills and delivers a powerful monologue coming from all her being.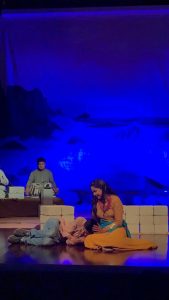 Music has a large part to play in this musical, and Ayesha Nadir Ali curates a whole atmosphere with her vocals. She is joined by Ustad Mohammad Hanif and Razzaq Riaz who heighten the zeal, the drama through their music. Dance performers Javeris Khurram, Isaac Youngren, Samson Dawood Bhatti, choreographer John, and child actor Ahmed Aslam add electrifying energy to the stage. The dancers are what shift the mood of the play, carrying the story forward and helping us give an insight into the minds of the lead actors.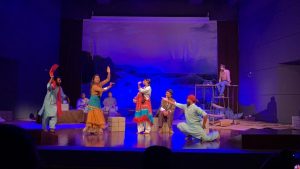 The Vasl team working towards putting the entire project together includes directors Adeela Suleman and Naila Mahmood, and team members Maria Hasan, Anosha Zia, Sakshi Kumar, Javed Patras, and Khurram.
Last but not least, Khalid Ahmed, head of Theatre Studies at NAPA, who recently made his noteworthy appearance in Churails, shines the stage with his direction. A good director must ensure everything fits together and compliments the story. Every movement, action, and dialogue must carry forward the narrative, in turn creating art with an effortless stroke. Khalid Ahmed is exactly that director.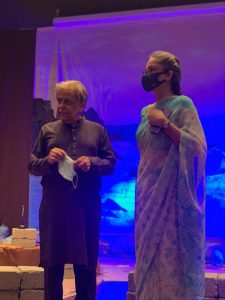 Due to restrictions pertaining to the Covid-19 lockdown, the performance has been recorded to be released online in a couple of weeks. Make sure you don't miss out on that!
Pictures courtesy: Hareem Fatima