KARACHI: Actor-cinematographer Usman Mukhtar made some shocking revelations on Instagram about harassment and bullying that he has been forced to endure at the hands of a fellow artist for over a year. He narrated his experience on his Instagram story in which he explained that the tiff began over creative differences over a music video and ended up with him being harassed, bullied and his character being maligned. He explained that the only reason he was choosing to speak up about this whole situation is that his family and his mental health have been suffering as a direct consequence of the tiff.
Mukhtar expressed his displeasure about having to come public with the whole situation. He began by writing, "I had wanted to resolve this quietly, in order to not bring negative attention onto a woman, any women." However, he felt forced to have to talk about it because "I can't remain silent in good conscience while my character is constantly maligned."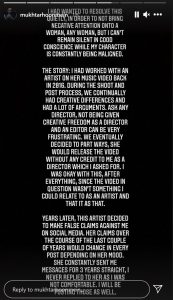 He went on to explain that he worked with the artist, whom he has chosen not to name, on her music video back in 2016 but "during the shoot and post process, we continually had creative differences and had a lot of arguments." The reason for the constant fighting was because "not being given creative freedom as a director and an editor can be very frustrating." The two eventually decided that the music video would be released but Mukhtar would not be given his due credit as a director which he says he was okay with "since the video in question wasn't something I could relate to as an artist."
Usman Mukhtar delays the release of his film 'Bench'
What would have been the end of the chapter was dragged on by the unnamed artist, as per Mukhtar. He says that years later the artists went onto make false claims about him on social media and went as far as to constantly message him for 3 years despite the fact he never replied.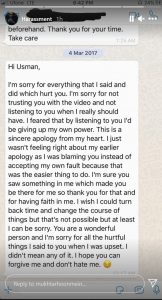 Mukhtar claims that he has "been harassed, blackmailed, bullied online for 1 and a half years by this woman." To the point that the matter had to be taken to the FIA which dragged on for another year until they managed to "summon her after calling her in multiple times. They investigated the case properly and then finally took her statement." However, despite the proceeding, the artist hasn't backed off.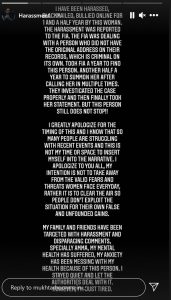 Usman Mukhtar went to write on his Instagram story that he was apologetic for the timing of his revelation considering the recent events that have left the country in shock and left women feeling unsafe. However, he felt the need to talk about his ordeal since "my family and friends have been targeted with harassment and disparaging comments especially Amma, my mental health has suffered."