KARACHI: Foodpanda has found itself under controversy yet again as riders held protests in Lahore against the company. The riders claims that the company making is exploiting them by overworking and underpaying them. And so the Foodpanda riders all rode to Lahore Press Club earlier this week in order to demand fairer wages and better working conditions.
A video circulating over social media shows the Foodpanda riders holding signs saying "Stop the economic killing of Foodpanda." In another video, a rider explains why they are all protesting. Speaking to a news reporter, the rider explained that while the riders have fulfilled their part of the contract, the company is not living up to their side of the agreement. Riders are expected to buy motorcycles that can cost up to Rs. 70,000 as well as cellphones as part of their job requirements. They are then allotted a zone for deliveries. However, it seems as though the food delivery mogul is sending the riders to different zones which are lengthy distances and the petrol cost for the rider is more than the amount they receive for that order. The Foodpanda rider put things into perspective by explaining that he had to ride from Iqbal Town to Bahria for a Rs.60 order which in turn cost him Rs.150 worth of fuel. He gave another example of how riders have to ride 6km for a Rs.22 order.
Another complain made by the riders was against the management of the company. He said that while outside the offices signs are put up calling the riders heroes and the office is supposed to be a place where they will be heard, the guard wont even let them in. So much so, the Foodpanda riders show up to work every morning without knowing if they still have their jobs. Riders have also complained that their salaries have been cut without any reason.
Foodpanda has been under continuous scrutiny. Recently, a picture began making waves on social media showing a Foodpanda rider laying on the sidewalk which prompted people to demand action from the delivery service.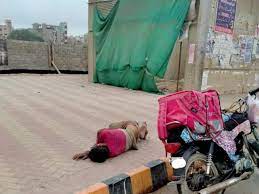 The government, under the Competition Commission of Pakistan, has launched an inquiry against the company for their alleged unlawful practices which have made them a monopoly.