KARACHI: Summer is a time when bodily consciousness is at its all-time high. Thinner and lesser fabric covers one's body and it is easy to make out the shape, or the 'supposed' lack thereof. However, that still should not mean you cannot love your body for what it is. Recently, Will Smith, in his Instagram post encouraged people that while trying to be better, one is allowed to love their body.
View this post on Instagram
He put up his first post on the matter captioned, "I'm gonna be real wit yall – I'm in the worst shape of my life." This was two days ago. Another post is a short boomerang video of the actor standing tall with his belly hanging.
View this post on Instagram
In his caption, he wrote, "This is the body that carried me through an entire pandemic and countless days grazing thru the pantry. I love this body, but I wanna FEEL better. No more midnight muffins…this is it! Imma get in the BEST SHAPE OF MY LIFE!!!!! Teaming up with @YouTube to get my health & wellness back on track. Hope it works!" The Men In Black star will also be documenting his journey.
Recently, a conversation around men's body positivity has recently begun focusing on curating a healthier self-image in men through fashion campaigns. Fenty recently took the podium in bringing attention to the issue.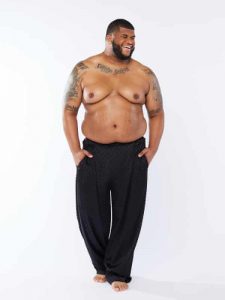 The last decade has been about women's body positivity movements. Models like Ashley Graham had become the face of fashion. Pakistan too has had its share of campaigns that aim at a more accepting and inclusive society, particularly when it comes to skin color and body type. However, for nearly all fashion brands for men, up till now, it is always muscular men. Even when none of their muscles are showing, the brand makes sure the kurta is fitted enough so the silhouette of the muscles can still show. Male models are mostly fair-skinned, muscular, and tall.
The insecurity of body image that might instill in men who watch these ads and fashion campaigns has not yet been addressed fully. We hope it is now time to address and deal with the issue.