KARACHI: The news of Saba Qamar finding a soon-to-be husband in blogger Azeem Khan had quickly taken social media by storm. Several people sent their congratulations, while many others brought out the more harsh documentations of statuses Azeem Khan allegedly posted, violating the privacy of several women who aimed to share their stories in a closed all-women's group.
Recently, however, Saba Qamar and Azeem Khan have parted ways. As suggested by her recent Instagram post, the two will no longer be getting married.
View this post on Instagram
"Hii Everyone, I have a very important announcement to make, due to a lot of personal reasons I have decided to call it off with Azeem Khan, 'WE ARE NOT GETTING MARRIED NOW' hope you guys will support my decision just like you all have been supporting me always, and I guess it's never too late to realize the bitter realities!" the actor wrote in her caption.
She also clarified that she has not met Azeem Khan in person and was only connected to him via her phone. "I have never Met Azeem Khan in my life we were only connected over the phone," she added highlighted with inverted commas.
"It's a very hard time on me right now but as we all know 'THIS TOO SHALL PASS' Insha Allah :)," she concluded.
The hopeful Ghabrana Nahi Hai actor signed off with a salutation of love to all her fans and followers. Several people from the media fraternity have wished their best to Qamar as she courses through a difficult time.
"Allah has a better plan for you @sabaqamarzaman ❤️," wrote celebrity makeup artist, Adnan Ansari. Hadiqa Kiani wrote, "Sending you a lot of love and light. Stay blessed, always ❤️".
Azeem Khan took to his Instagram story to share the news too. He wrote, "She hasn't written my side of the story, and yes it's my fault. Yes, it's my fault."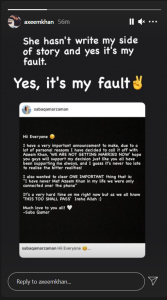 Saba Qamar has often been under scrutiny regarding marriage and who her husband might be in the future. The actor, through her YouTube channel and TV dramas, has urged the independence of women and equal marriages.