KARACHI: Model Eman Suleman recently shared pictures from a photoshoot she did for Mohsin Naveed Ranjha shot by Shayan Khan Sherwani. Styled by Zahra Sarfraz and dolled up by Fatima Nasir, Suleman gathered praises for her royal look. However, hair and make up artist Nabila, seemed unimpressed by the photoshoot.
View this post on Instagram
"Great idea, executed badly…specially the ichra looking hairpiece. When the subject is so beautiful, it's a sin not to up our game," commented Nabila regarding Eman Suleman's hairdo. The model came to her team's defence and replied, "Nabila, I think it's a job well done, better than any parlour could have done."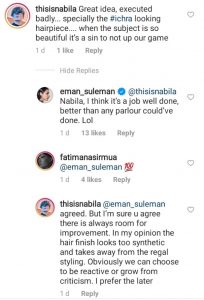 Convinced on her opinion regarding the hairdo, Nabila mentioned that there is always room for improvement and that she chooses to grow from criticism rather than react to it, which she believed was how Suleman had acted. At this point, the hair stylist, Fatima Nasir, decided to speak for herself.
"Her hair is roughly 4-5 inches long, requires a lot of effort to even fake a hairdo like this to be honest" wrote the stylist referring to Eman Suleman's short hair. Elaborating on how she had to use real extensions and paddings to style the model's hair, Nasir told Nabila that she had "still managed to achieve the hair reference" that she had been given. Nasir also shared how she thought 9/10 artists would not have been able to achieve what she had with Eman Suleman in the photoshoot.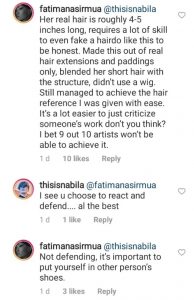 The argument got heated when Nabila chose to interpret Nasir's explanation as a defence. The hairstylist expressed her disappointment over the sue of the word 'ichra' by Nabila for her hard work. "People forget what you say but they never forget how you make them feel. An artist can (be) very talented/experienced, etc. but empathy is just as crucial."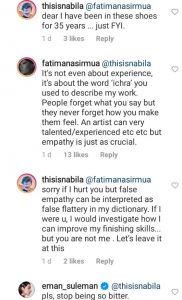 However, Nabila seemed unconvinced of the team's approach towards the project and suggested that Nasir "investigate how I can improve my finishing skills" like she would have had she been in Nasir's position. "But you are not me," boasted Nabila after which Suleman asked her to "stop being so bitter."