KARACHI: Sometimes celebrities clap back at social media trolls and show them that their work might make them public figures, but they are still human beings and not public properties – open to personal attacks and comments. Recently, a celebrity who decides to respond to a troll in the most iconic way was Bulbulay star, Ayesha Omar.
Known for her style, Ayesha Omar is often asked by fashion brands to promote their clothes. She was recently reached out to by a new line of women's luxury wear, curated by Amal and Munischa Asif.
The outfit was selected (and deservingly so) by the actress for the virtual award ceremony of the LSA. The actress also included hashtags such as #womensupportingwomen  #womenempoweringwomen and #promotingsmallbusinesses.
View this post on Instagram
Following this, a troll commented on her post stating that the actress encouraging women to expose their bodies was not empowering.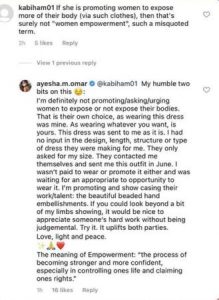 "If she is promoting women to expose more of their body (via such clothes) then that's surely not 'women empowerment', such a misquoted term," the comment read.
To this Ayesha Omar, who completely kept her cool and did her best to educate the troll, wrote that she is definitely not urging women to expose their bodies. "That is their own choice. As wearing this dress was mine. As wearing whatever you want is yours." She further stated that the dress was sent to her as it is and she had absolutely no say in the design elements of the dress, except tell them her size. While she was sent the dress in June, she was waiting for the right moment to put it on. The actress expressed that her post is an effort to showcase and promote their hard work and the beautifully beaded hand embellishment that the dress had.
"If you could look beyond a bit of my limbs showing, it would be nice to appreciate someone's hard work without being judgmental. Try it. It uplifts both parties. Love, light and peace," she concluded.
View this post on Instagram
Ayesha Omar also took it upon herself to explain the troll what empowerment actually stands for and we have all stood up in a standing ovation. "The meaning of empowerment: the process of becoming stronger and more confident, especially in controlling one's life and claiming one's rights."
We hope her little online class has broadened a lot of minds and made men who feel like controlling women's bodies realize that her body isn't theirs to control.