KARACHI: With streaming sites such as Netflix, Disney+ and Amazon Prime gaining traction amidst the global pandemic, Pakistan feels a dire need to have a local platform on similar lines. While there is no comparison needed at this point, there has been a lack of one for original Pakistani content. Considering that, Dice Foundation recently launched one, titled RINSTRA, for audiences in Pakistan. The platform went live on December 22.
View this post on Instagram
Prior to the launch, there was a press junket where we spoke to co-founder Amir Jahangir. Veteran playwright Haseena Moin and director-producer Misbah Ishak Khalid, who are closely associated with the initiative, were also in attendance.
"RINSTRA is not just a platform, it is an ecosystem," shared Amir Jahangir. "Other platforms create content and put it up on their website. We are different on that note. We commission content that people send in – we have both established and aspiring artists on board. The experienced content creatives will also mentor amateur names. We develop the content together and also fund for it too. We're also bringing in short-form content which is 1-2 minutes long. There is a combination of various options available on the website. There are segments such as RINSTRA Challenge around which people can create videos and post. There are awards for the best video."
View this post on Instagram
"This will help bring diversity and promote local artists," he added. "Local TV is stuck in a rut and platforms like these allow room for creativity. The dynamics of content consumption are changing. That said, it was an opportunity as well as a service for up and coming storytellers. Where will they take their ideas? Our television does not have the appetite to run that content. RINSTRA aims to tell our stories our way – as the slogan goes."
Pakistan's first online platform RINSTRA to launch in December

As far as the business module goes, the CEO informed that it goes two ways – advertisement and subscription-based. "The revenue we initially get on content viewing, we will share half of it with the content creator. This is far more as per international standards. Though our costs in Pakistan aren't as high either, it is important to benefit the creator to the maximum too. Unless you give the incentive to the content creator so that they produce unique content, the viewer will not come to you," he observed.
View this post on Instagram
The biggest challenge for an OTT platform like RINSTRA in Pakistan, according to the CEO, is the subscription charges.
Chief Creative Officer Misbah Ishaq Khalid takes care of the programming for the platform. Speaking to Cutacut, she said that RINSTA is collaborating with creatives from all over Pakistan through DICE. "We are open to ideas and assist them in the process. There is a learning process in addition to creating content.
However, I strongly abide by a certain code of conduct under which I don't approve bad language. I don't think our youngsters need to use that language along the lines of Bollywood content we've been watching online. Secondly, I don't appreciate sexually explicit content on RINSTRA. It has to be in good taste. We have a culture that we should maintain given that it is a local platform."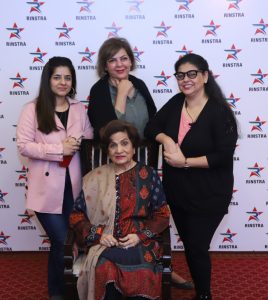 Speaking along similar lines, Haseena Moin emphasized the need to have decent content that gives out positive messages instead of spreading negativity or vulgarity. She shared, "The purpose of RINSTRA is to compensate for the decline we see in entertainment. Our dramas are not for the youth, they are for women typically. It is a disrespect to our culture. Our purpose is to bring Pakistani culture back and instill it in the new generation. Media has a strong impact on our lives and we wish to serve the purpose by creating positive content."
Haseena Moin to write a web series on breast cancer awareness

A lot of content on the site is accessible to users for free till January 5. After that, one will have to subscribe for premium content while 80 per cent of it will be free. There is going to be a free-for-all online festival for 3 days starting December 25.
View this post on Instagram