KARACHI: Another day, another award show being hosted internationally to 'promote Pakistan's soft image,' as many industry A-listers love to claim. Nobody knows the credibility of these award shows that pop up each year out of nowhere and fly out a bunch of stars to places like Oslo or Dubai, or who organises them and decides the winners. But they're happening and with the passing of each year, a new name seems to pop up.
The latest name in this list of obscure award shows is PISA, which stands for Pakistan International Screen Awards. Being held in Dubai, this award show recently flew out a bunch of celebrities in a private jet and Instagram was buzzing with these photos as each celebrity on that plane made sure to do a photo-op. Also stars that didn't get a ride on this particular private jet had already been flown out earlier. These include the likes of Adnan Siddiqui, Hira Mani and others.
Read: Jennifer Aniston won an award last night but everyone's talking about her brief encounter with ex Brad Pitt
While some celebrities have clearly been given star treatment, other actors have expressed their displeasure at the way the organisers kept many nominated names in the dark about whether or not they would be covering their travel and accommodation details or not. Apparently, several celebrities were approached by PISA Awards and then right before the show was scheduled to take place, they apparently stopped responding. At least that's what Bulbulay star Nabeel Zafar has to say about the show.
He took to Facebook to write a detailed account of how he was disappointed with the way the organisers treated nominated actors.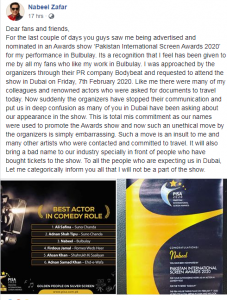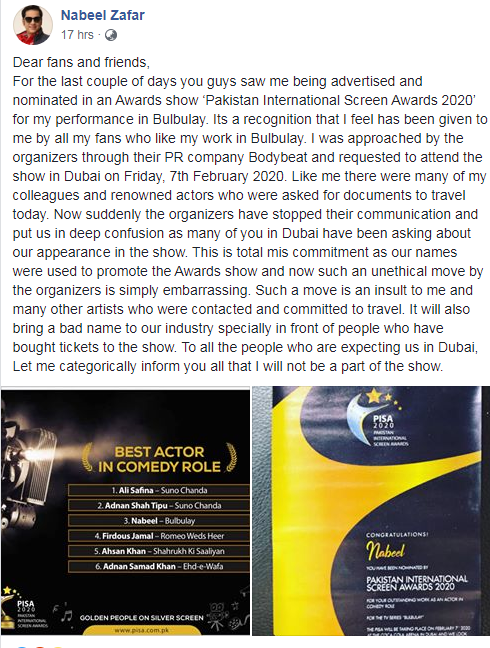 Celebrities such as Hina Dilpazeer, Nadia Afghan and Adnan Shah Tipu also commented on the same thread to say that they had faced something similar.
In fact, Osman Khalid Butt said to add names like Saqib Malik, Ahmed and Ali and himself in the list of snubbed artists whom the organisers simply disappeared on.