KARACHI: Uber revealed on Thursday a safety report that detailed the number of sexual assaults that users have faced. The foreword of the report explained that the company began working with the National Sexual Violence Resource Center (NSVRC) to put an end to unwanted behaviours and providing a service that protects their users.
The ride-hailing service company was started in San Francisco in 2009 and has a around 110 million users globally as of this year.
The report detailed over 5,981 sexual assault cases within which there were about 235 cases of rape. The report clarifies that in these numbers, the victims of this crime were both the passengers and the drivers. The numbers of sexual harassment increased from 2017-2018 by 2,936 to 3,045.
They further clarified that the intentions on releasing this report that details the number of sexual harassment is because they want to emphasise the severity of the situation and confront these issues, the safety report stated. "By releasing this data publicly, Uber is confronting these challenging issues head-on rather than shying away from or minimizing the numbers."  In a podcast interview with NPR, Uber's chief legal officer, Tony West said, "It's very important if we are going to consistently and continually raise the bar on safety," speaking about how sharing this information with the public is important because its our right to know.
The report, that was a tally of sexual harassment incidents over the course of 2017-2018, broke down the categories of sexual harassment along with their numbers.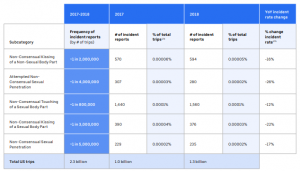 The table identified five types of sexual assault namely, non-consensual kissing of a non-sexual body part, attempted non-consensual sexual penetration, non-consensual touching of a sexual body part, non-consensual kissing of a sexual body part, and non-consensual sexual penetration. As pointed out by Refinery 29, the report did not include other forms of sex crimes such as masturbation and verbal assault.
Other ride-hailing apps like Lyft have also faced sexual assault cases but are reportedly not doing enough about it, according to Refinery 29. Nineteen people are allegedly suing Lyft for not revealing the sexual harassment history of drivers and refusing to enforce police to look after this issue for the safety of their users.
Although there are no definite numbers released by Careem for the amount of sexual harassment faced while using it, there have been several reports that came to light last year that showed it exists within this company as well.
Read: Woman narrowly escapes kidnapping attempt by Careem captain
In conclusion of the Safety Report, Uber made an important statement for other ride-hailing companies to take action on sexual assault cases and provide a safe platform for their users, "We encourage all organisations—airline, taxi, ridesharing, home-sharing, and hotel companies, as well as others—to share their safety records with their customers and exceed this report. People have the right to know."