KARACHI: Hamza Ali Abbasi confirmed on Wednesday that he plans to marry Verna star Naimal Khawar, his platonic friend of two years.
He took to social media to confirm rumors about the two getting married by tweeting: "yup, it's true." The actor further posted an explanation with a long-captioned post detailing their marriage as a gesture to "please Allah."
Read: 12 dumb things that happened in 2018
The statement was heavily influenced by religious/spiritual aspects as Hamza stated, "You look at your life and realise that many things you do that give you pleasure are the same things which cause displeasure to your Lord." 
The insinuation that marriage should not be a product of love continued as his narrative suggests, "Some people get married for themselves because either they fall in love or because their lonely or maybe because of family or to have kids, these are also good reasons, but believe me when your sole reason is to please Allah.." 
Read: Pakistani Celebrities join UN Women to end dowry culture
The rumors that were circulating on Twitter showing images of the wedding invitation card of the two were confirmed by the actor.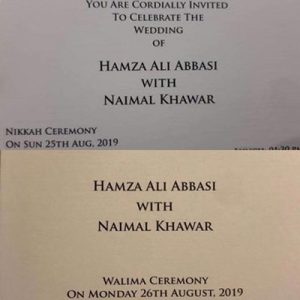 In his post, Hamza detailed that he had an entirely platonic relationship with Naimal for two years before deciding that he was to make her his wife as another indication of his journey towards getting closer to God. Congratulations to the two!