KARACHI: A lot has happened in 2018. From videos that went viral to television gimmicks gone wrong to politics (gone wrong), it has been an overwhelming year. We've compiled a list of things that were so absurd that they deserve a mention (in no particular order):
1. The media continued to be extra
We're not going to lie, we live for Geo News' Amin Hafeez's style of reporting. But this time, an animal may have been harmed/offended and we're not down with that.  This year, it was a donkey. While reporting on the rising population of donkeys in Lahore, Hafeez decided to sit on one. And the donkey was not having it, and basically threw him off right before the package ended.
2. A Pakistani woman claimed to be Trump's daughter
A young Pakistani woman claimed to be US President Donald Trump's daughter. Ammara Mazhar from Lahore claimed that Trump was her father in interviews with electronic media. We think maybe, for once, our media should have acted responsibly and she should have been referred to medical help assistance instead of made a spectacle.
3. Magazine covers got a little offensive
By a little we mean a lot! In an attempt to be creative (we guess) these covers/photo shoots failed so miserably, we couldn't let it go.
Here's a woman being stepped on. And the stylist defending it by saying women will do anything to get what they want.
An entire issue on feminism but the cover shows a woman piggybacking on a man. Wut.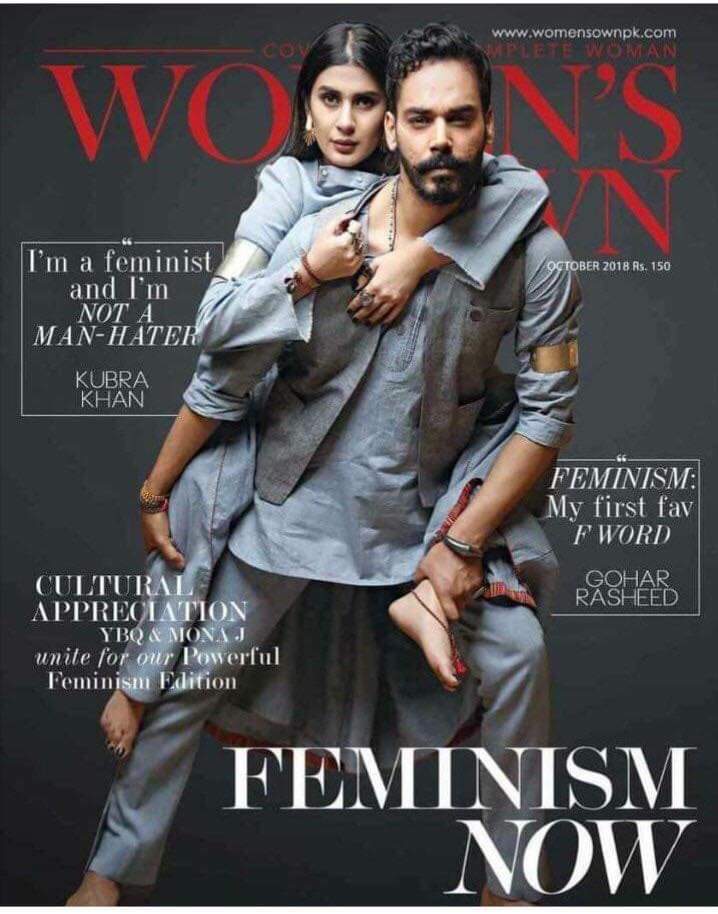 This 'born free' cover shows a shackled lion cub. I mean….
4. Musical.ly took over our lives
The year was all about WhatsApp forwards of distorted voices and songs on app Musical.ly. I mean a little was fine. But seriously, do we have to over-do everything?
5. Everyone found a kid with anger management issues cute
A video of a kid misbehaving and yelling at his teacher in a classroom made rounds on social media and saw him being invited to morning shows. Boy got no chill and we are celebrating that?
6. Hamza Ali Abbasi remembered his Twitter password
Someone needs to change his password and we're not even joking. Each time, the actor starts off his tweets earnestly, giving us some hope but that soon crashes and burns with either unsolicited advice or just straight up problematic opinions. Here are a few examples:
Random thought: With this entire #MeToo global epidemic on the rise, I am beginning to realise that ISLAM was right all along when it ordains gap between the 2 genders. So called modernism has brought us to a point where the line between flirting & harassment is insanely blurred.

— Hamza Ali Abbasi (@iamhamzaabbasi) April 20, 2018
Firstly, he called a campaign against sexual harassment a global epidemic. Second, he doesn't understand consent and the difference between flirting and harassment.
#StopHamza2019
7. Women went from being lollipops to juice boxes
The list of objects women are referred to as never ceases to grow. After lollipops, cement and toffee came juice boxes. It trended for a while everywhere until someone came up with, guess what, CARS! Can't wait for the next one, really!
8. We couldn't get over white women marrying Pakistanis
Not only are we obsessed with shaadis, we also happen to be obsessed with white people. Combine the two and it was a field day for TV channels.
9. We banned 'Veere Di Wedding' but not 'Sonu Ke Titu ki Sweety'
Just the name Sonu Ke Titu ki Sweety should be banned. But that and the movie was given the green signal despite constant swearing and the use of sexually-explicit language. Which is fine with us, because who gives a fuck ammirite? BUT it's not fine if other films with lesser profanity were banned. Why? Because the sexually-explicit jokes were made by female leads? Veere Di Wedding, a movie about friendship and the female bond, was deemed not fit for the audience. Sexist.
10. Morning show used blackface to create 'chocolate brides'
This really took the cake. With all the dumb stuff happening, this one is right up there. During her morning show, Sanam Jung and her producers thought it was a good idea to hold a segment on brides who are brown-skinned. Now, instead of using models with darker skin (i.e. a majority of your population) they used fair-skinned model and slathered them with dark foundation. Jung is quoted saying she wants them to look like "chocolate brides" and to give them a "negro" look. Honestly, this was embarrassing and infuriating, and we wish to forever erase it from our memory. The morning show host needs to brush up on history to understand how highly offensive this was.
11. Azhar Ali was a little too chill after getting out
In a Pakistan vs Australia test match, Azhar Ali was run out and seemed fairly okay with it. You know who wasn't okay with it? Us and all of Pakistan. Ali was run out and was seen chatting with Asad Shafiq standing in the middle of the pitch. And he showed no reaction after. What was that? We demand answers.
12. Coke Studio's 'Ko Ko Korina' caused an epic Twitter war
Before we could even finish the two-step clap after Ko Ko Korina, Momina Mustehsan and Human Rights Minister Shireen Mazari got into a heated argument on Twitter.
Mustehsan quoted Uncle Ben from Spiderman and called out Mazari for cyber-bullying.
It was a fun day, let's just call it that.