KARACHI: The year 2018 was tumultuous in many ways, but perhaps the biggest jolts were felt with many of the influential and notable people from Pakistan as well as around the world leaving us behind. From celebrities to activists, we lost some of the biggest names who left a mark not only locally, but also globally.
Here's to all those who we will always remember.
1. Asma Jahangir
A human rights lawyer, defender; she was the iron lady of Pakistan. She co-founded Human Rights Commission of Pakistan and served as the United Nations Special Rapporteur on Freedom of Religion or Belief. She also played a prominent role in the Lawyer's Movement in 2007. She received several awards, including Martin Ennals Award in 1995, Hilal-i-Imtiaz in 2010, Nishan-e-Imtiaz in 2018, and the 2018 UN Human Rights Prize. She was known for her strong, unyielding demeanor and stood in the face of force. We miss her strong voice many a times especially when the country faces a human rights crisis. And there are always one too many.
2. Fahmida Riaz
She was often targeted by right-wing, conservative factions of Pakistani society for being very open in her writing. She was the first poet who talked about female sexuality and desire in her poetry and was, of course, not spared criticism and backlash. Some of her notable works include Pathar Ki Zuban,  Zinda Bahar, Dhoop and Karachi among others. Riaz was a rebel to the core.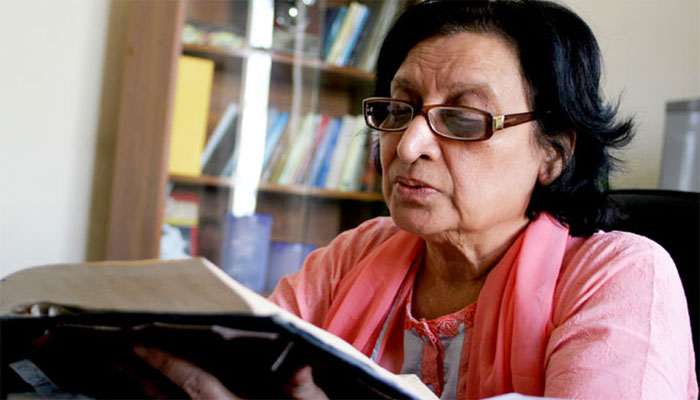 3. Zubaida Tariq
We all remember her for unlimited totkas and unmatched culinary skills. Zubaida Apa wrote several cookbooks and made regular television appearances in distinctive colourful bangle sets, and a neat and polite demeanor. People in Pakistan and abroad knew her to be another talented sibling of the renowned writer Anwar Maqsood and (late) Fatima Surayya Bajia. We miss seeing Zubaida Apa on TV and all her got-you-covered totkay.
4. Qazi Wajid
We remember him from PTV's golden era's dramas, playing the easy-going, supportive dad in Dhoop Kinaray and the cheery Faraan in Tanhaiyan. Wajid played a variety of roles, from light and funny to serious ones. He was an institution in himself and the face of good, powerful dramas of yesteryears.
5. Ali Ejaz
He had worked in over a 100 films but was more recognised as a comedian. He joined theatre in the 1960s and is known to have trained an entire league of artistes and actors. Some of his famous films include Yamla Jutt, Ishq Mera Naam, Dada Ustad and Laila Majnoon. According to Dawn, he also has a charity running under his name since 2015, one of the most prominent projects which include building homes for the elderly near Lahore. A life well-lived, indeed.
6. Tahir Chaudhary
Popular for his show 'Cooking on a Budget' on Masala TV, Chef Tahir Chaudhary's sudden demise shook us all. Just a day before his death, he was seen on the channel celebrating with the rest of the crew. Before settling in Pakistan, Chaudhary had been using his culinary skills in Italy, France and Dubai. He passed away due to cardiac arrest in October.
7. Anam Tanoli
Model Anam Tanoli passed away September this year. She was 26. Her suicide was tragic and shocking. Her death sparked a conversation on social media about the many hidden faces of depression and mental health problems. We pray she is at peace.
8. Annie Ali Khan
We remember her from Shahzad Roy's song Saali. She pursued modeling for some time before switching to journalism as a freelancer. She died from suffocation from a fire. Rest in Peace, Annie. We lost you too early.
9. Sri Devi
The Bollywood diva lost her life to accidental drowning in a bath tub in a hotel in Dubai. Her sudden demise left the film industry and her fans heartbroken. The film star worked in Telugu, Tamil, Kannada and Hindi films. Some of the prominent titles include Lamhe, Chaalbaaz, Mr.India and Sadma. A queen to the very core, she was one of the most celebrated artistes of B-Town. Rest in Peace, Sri Devi!
10. Stan Lee
We owe him for giving us all our favourite superheroes such as Spider-Man, Iron-Man, X-Men, the Hulk and Thor. We can't help but wonder what character he was working on as only after his death his daughter reported that another was in line and she vowed to finish it for him. Lee changed the face of comic characters, gave them a new light and made them more believable. Thank you Stan Lee, for gifting us all the amazing things to watch and characters to look up to.
11. Anthony Bourdain
You flick a channel on your television set and he could be seen  perched on a stool enjoying a meal in some dingy eat-out in Asia. A few days later, he would be seen sitting in a fancy, low-lit restaurant in Manhattan. That's who Anthony Bourdain, who lost his life to suicide at 61, was known to the world. A chef, an author, a television personality, a documentary filmmaker – his hats were as varied as his food preferences. A true gem to just watch, Bourdain will be missed by millions of people.
12. Kate Spade
Somebody mentions Kate Spade and we instantly think of the vibrant handbags and the colour pink! Spade founded the luxury fashion design house in 1993 in New York and is regarded as one of the biggest American fashion success stories of her generation. Her styles were known for their simple yet sophisticated look, and of course, the unapologetic use of the colours and shimmer. We lost Spade to suicide this year.