KARACHI: Season 6 of the hit talk show Koffee with Karan, hosted by Kuch Kuch Hota Hai director Karan Johar who interviews A-list Bollywood celebrities, is currently on-air. So far, two episodes are out; the first with Alia Bhatt and Deepika Padukone, and second with Ranveer Singh and Akshay Kumar. Aamir Khan is slated to be the third episode's guest, according to Hindustan Times.
Read: It's been two years since 'Ae Dil Hai Mushkil' and we're still not over how Fawad Khan was sidelined
However, we feel content from the recent season doesn't even compare to some of the golden television moments Koffee with Karan has created over the years.
These are some of our favourites:
1. When Vidya Balan told the men of the world what they needed to know
"Women like it, need it and want it as much as they do," said the Kahaani star on season 4 of the show when she appeared alongside Farhan Akhtar.
Read: 'Koffee with Karan' boasts of opening with girl power but goes straight into asking about boyfriends, marriage
That was quite an honest episode and we we're all for it!
2. When SRK was brutally honest about the probability of things
Karan: If you woke up one morning found out you'd turned into me, what would you do?
ShahRukh Khan: You know, Karan, the chances of me waking up in the morning and turning into you are less but waking up in the morning with you are more. At least that's what everyone says.
And this was before it was legal to be gay in India. Full points to SRK.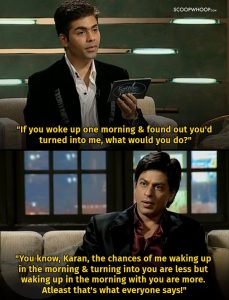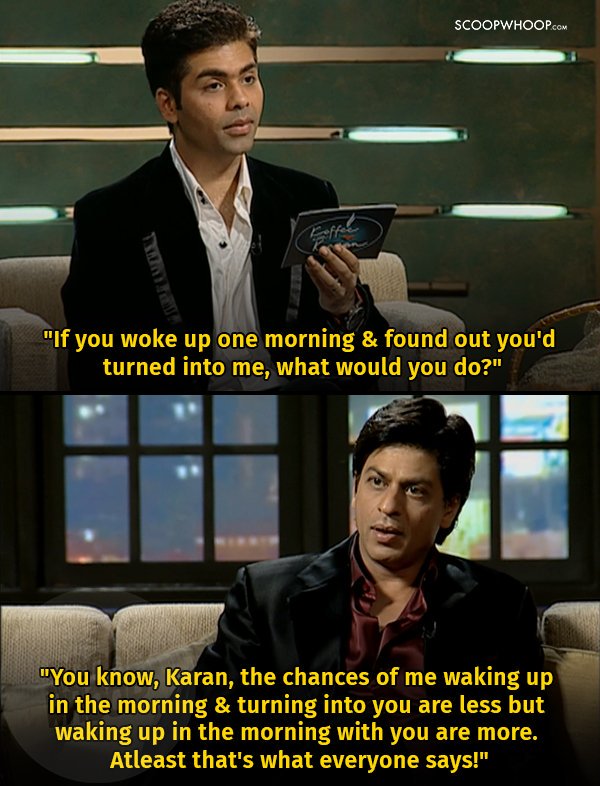 3. When Ranveer Singh and Arjun Kapoor talked about their raita playlist
And I mean…
4. When Kangana Ranaut called Karan Johar the "flag-bearer of nepotism" to his face
Oh and that's not all she said. She also called him "a stereotypical Bollywood biggie who is snooty and completely intolerant to outsiders". We died.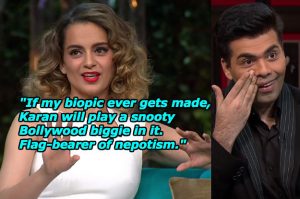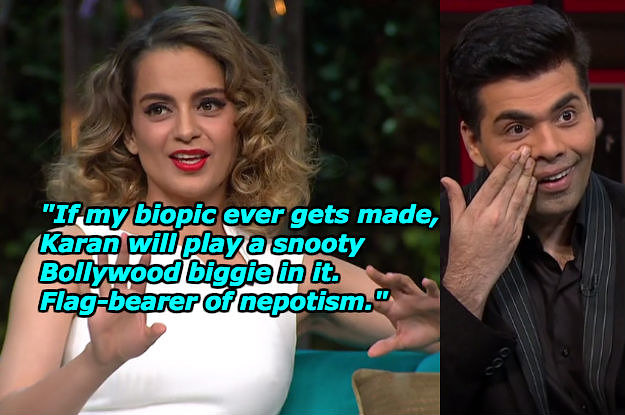 5. When Deepika Padukone and Sonam Kapoor called out Ranbir Kapoor for his infidelity on national television
It gave us such John Tucker Must Die feels. This was on season 3 of the show and Padukone opened about her relationship with Kapoor and their break up as well. She also said he should endorse condoms and tbh we still miss that kind of drama in our lives.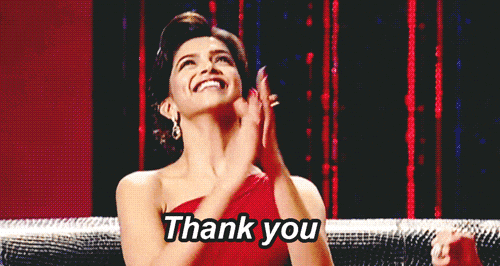 6. When Freida Pinto put out the best marriage ad for herself 
To Johar's rapid fire question about what her matrimonial ad would say, Pinto said "Anyone who is not looking for a "fair, light-eyed virgin". Love it.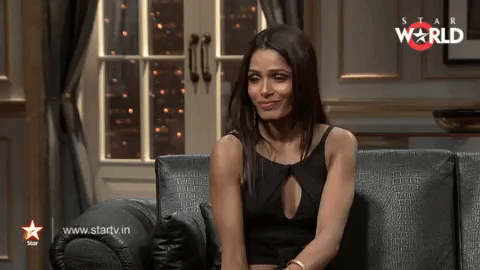 7. When Twinkle Khanna took a dig at Karan Johar for the whole Ae Dil Hai Mushkil and Fawad Khan fiasco
Somebody had to …
PS: We love her!