KARACHI: Glitz and glam took over the Pearl Continental Hotel in Karachi this past weekend, as Pakistan's fashion world came together to celebrate this year's winter collection. Celebrities, designers, models and corporate sponsors worked to put together a two-day experience that gave some of Pakistan's leading designers an opportunity to push boundaries and present cutting edge designs. The result? Lots of pretty clothes for brides, and a few tone-deaf choices culminating into two long but moderately entertaining evenings, with lots to please the eye, a bunch to confuse the brain, and a 'let's-be-charitable-by-beautifying-Lyari' insert plugged in there.
What stood out most during the fashion shows, besides the clothes, of course, was the way in which designers chose for their sets to be introduced. Tena Durrani's clothes were for a woman who was "respectful of her heritage as she embraces the future", a "rare bird". Zainab Chottani decided for her winter collection to be an "imperial showcase inspired by the Victorian era, perfect for fairy tale decadence". Not only did I lose count of the number of times the word 'heritage' was misused, reused and recycled, I was also left questioning what that word means to an urban elite of trendsetters, showcasing their work in a city that is almost entirely made up of ethnic immigrants.
Read: Review: While unpacking performance art is important, Mohsin Sayeed should not be the person to do it
An urban-rural tension was very apparent from Mai Dhai's presence at Wardha Saleem's showcase to the Pink Tree Company's decision to celebrate the 'Gulaabi Gang'.
FPW Day 2 opened with Wardha Saleem's showcase, and the models walked to Mai Dhai's classical, folk tunes. When the set ended, Mai Dhai was brought forward, centre stage, by the chicly dressed designer, and models decked out in expensive bridal wear. As the audience broke into rapturous applause, one couldn't help but notice that the visuals of the entire situation were cause for slight discomfort. Mai Dhai is an important cultural symbol and she has performed all over the country, even represented us abroad, and so it only makes sense for her to be part of such an event. And yet, Mai Dhai, a woman from rural Sindh, representative of a community of women known world over for development reports detailing food insecurity, undernourishment and gender inequality, standing on the FPW ramp encircled by women decked out in outrageously expensive clothes, in a room full of a cosmopolitan elite there to celebrate clothes for unreasonably expensive weddings, was a reminder of disparities we are so comfortable ignoring.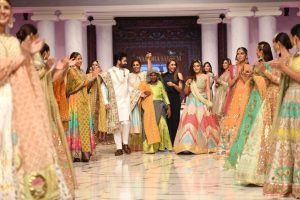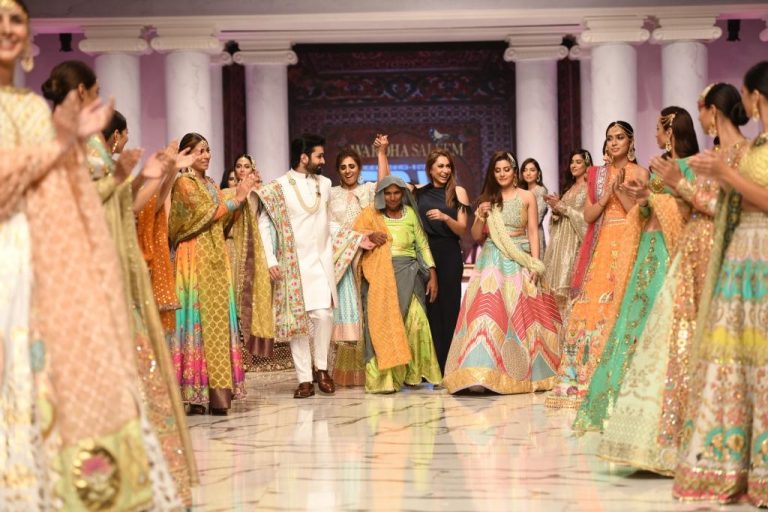 The Pink Tree Company was introduced by Sheema Kirmani who spoke at length about the color pink. The entire showcase was inspired by India's 'Gulaabi Gang' – a rural, vigilante group of women that fight the patriarchy in important ways, and sometimes even resort to physical violence. The group is an important, subaltern feminist symbol, and the Pink Tree Company's decision to celebrate it was exciting, until the models walked out with their hair partings lined in pink sindoor. In Hindu communities, sindoor is worn by women to indicate whether they're married or widowed. When it is removed from a woman's hair at the time of widowhood, the woman is subjected to a range of other traditions that signify her transition into mourning. Its inclusion as part of an 'aesthetic' worn on a fashion ramp, out of context, was tone deaf. A woman's cultural reality is not an aesthetic.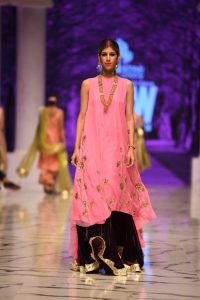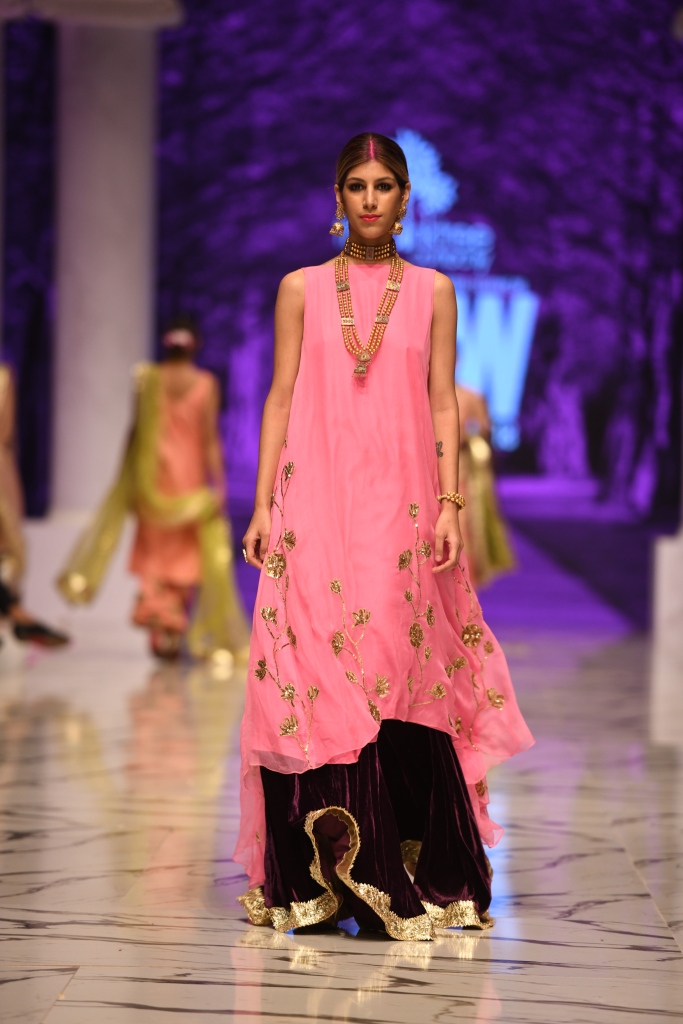 Our designers and trendsetters occupy an important cultural space. They get to decide what to glamorise, not just with the clothes they design but also in the ways they choose to present those clothes, and the ways in which they decide to describe those clothes. Two days at Fashion Week made me realise that we need a more nuanced discourse to be initiated around fashion in our country. There's a lot to celebrate when it comes to Pakistani fashion, "imperial showcases inspired by the Victorian era, perfect for fairy-tale decadence" should not be up there – especially given our cultural experiences as a people with imperialism and the Victorian era. The Victorian era was far from fairytale-ish for Victorian women, and it was an era of extreme subjugation and oppression for the women in the subcontinent. Why are we glamorising it?
Read: Review: Anwar Maqsood's new play uses 'blackface' for cheap laughs
Similarly, let's try and breakdown our fixation with the word 'heritage'. As a people, we have inherited a rich culture, yet cultures must evolve and grow. Why must we keep turning back to the culture we inherited for creative inspiration? While Rano's Heirloom, Lajwanti, Huma Adnan and Wardha Saleem presented swoon-worthy bridal showcases, Amna Aqeel and Maheen Karim's sets were a great break from the onslaught of bridal wear as they exhibited women adorned in clothes that played with cultural fusions; there was no repetition of the word 'heritage' there, just fun party wear. Someone happened to remember that there's more to winter than women getting married and wanting to get in touch with their 'heritage'.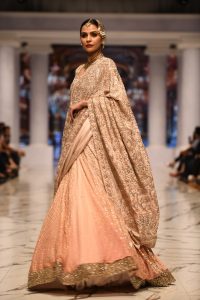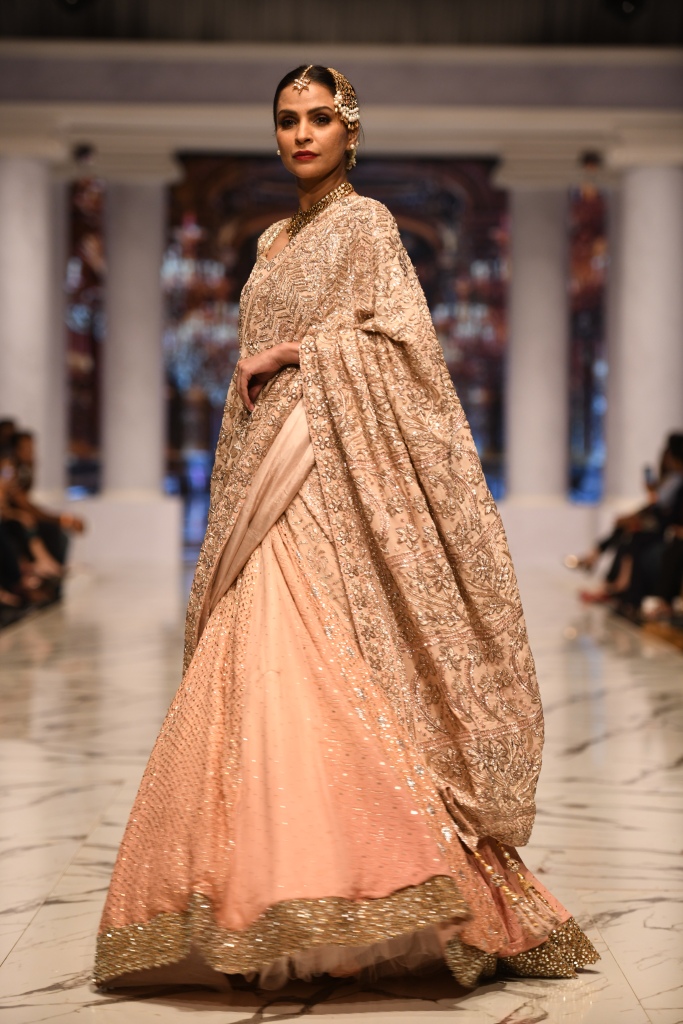 FPW left one questioning: is 'heritage'-branding merely a gimmick used by the fashion world in hopes of entrapping urban brides wanting to feel traditional? If so, I sincerely hope it fails as a marketing strategy. Our winter fashion scene must grow beyond bridal gimmicks. Not only does it fuel the ridiculously priced wedding industry in this country, it also reinforces archaic stereotypes about bridal aesthetics.
While the clothes at FPW's winter collection showcase were very pretty, one can only hope that next year, they're also fashion-forward.